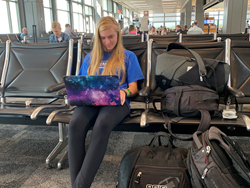 "In a regular school…I'd feel like a failure. And that's not who I am."
MORGANTON, N.C. (PRWEB) June 01, 2020
When the Covid-19 outbreak forced schools to abruptly close, students and school systems were sent scrambling for ways to keep the wheels of education turning. But through it all, 15-year old high school student, Gray Leadbetter, never missed a class. That's because this young, professional race car driver had made the switch to online education five years earlier.
Gray is among a growing number of young athletes and professionals for whom the rigid schedule of a conventional school is not compatible with their career ambitions. "As a racer, I'm traveling all the time," says Gray. "In a regular school, I would be absent so many days that there's no way I could keep up with my studies. I'd feel like a failure and that's not who I am."
Last year, Gray competed in four racing series: Legends, Mini-Outlaws, UTVs and Americas Rallycross Series. In between races, she trained regularly at the Bondurant High Performance Driving School in a 717-hp Dodge Challenger Hellcat. Her driving commitments took Gray away from her home in Morganton, North Carolina over 50 percent of the time. Between training and racing, she travelled to more than 12 states and the Canadian province of Quebec. She even spent time in Sweden perfecting her ice racing skills on a frozen lake.
With so much time on the road, Gray needed a flexible education system that would fit her rigorous schedule. She found it with On Track School, a private, non-profit, internationally accredited online K- 12 school designed specifically to meet the needs of aspiring young professionals.
On Track School was created out of a mother's need for a nontraditional education option for her son who, like Gray, was a rising star in motor sports. "By the time Michael was in the fifth grade, he was a top-ranked motocross racer and we were traveling all over the country," says On Track founder, Andrea Leib. "The traditional school just wasn't working and home schooling looked like the only option."
A teacher with a master's degree in education, Leib started tutoring her son and other young racers in 2003. "It became apparent that tutoring at racing events wasn't going to be a long-term solution," says Leib. "Instead of always trying to play catch-up with their school work, these students needed a flexible program that would keep them ahead of the game."
From that simple beginning, On Track School has grown into the school of choice for hundreds of students for whom conventional school systems just don't work. While many are pursuing careers in racing, surfing, tennis, golf and other professional endeavors like music, the broad curriculum and personal attention afforded each student has made On Track an attractive alternative. To date, more than 550 students have gone through the On Track program.
While it is an online school, On Track still provides a human touch. "That personal contact between teacher and student is an essential part of our philosophy," says Leib. "Every student has a personal advisor, a support coach who they check in with on a regular basis to make sure they are on track." Students also have access to learning coaches who are subject matter experts that they can contact whenever they need help with a specific subject.
"What I like most about On Track is the fact that I can study anywhere, anytime," says Gray. "I never have that awful feeling that I'm falling behind like I would if I were still attending a regular school. I spend a lot of time at airports and on planes, but I'm never bored because it's the perfect time for me to do my school work."
While attaining a college degree online has become commonplace in recent years, online K-12 education is still a relatively new option. In light of the recent pandemic that has disrupted traditional public and private school education, online K-12 appears to be an idea whose time has come.
To follow Gray's career and learn about sponsorship opportunities visit: grayleadbetter.com
For more information about On Track School visit: ontrackschool.com