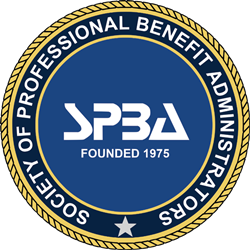 A big plus with SPBA's Spring Meetings has always been that we welcome government officials to attend and be part of the exchange of ideas.
CHEVY CHASE, Md. (PRWEB) April 30, 2019
Hosting its annual Spring Meeting in Washington, D.C. from April 24-26, the Society of Professional Benefit Administrators (SPBA) organized three days' worth of educational sessions that focused on timely regulatory issues and developments that affect self-funded health plans.
Industry experts, government officials and policymakers were all on hand to share in discussion with third party administrators (TPAs) and other SPBA members about topics that influence employee benefits. The well-attended Meeting kicked off with candid conversation on proposed legislation related to surprise billing in health care with Congressional staff in the audience.
"A big plus with SPBA's Spring Meetings has always been that we welcome government officials to attend and be part of the exchange of ideas," said Anne Lennan, SPBA president. "It's extremely beneficial for TPAs to hear directly from the policymakers and have an active voice in shaping legislation."
Throughout the three-day Spring Meeting, presentations highlighted the latest regulatory happenings on issues like:

The Affordable Care Act (ACA), including price transparency
Multiple Employer Welfare Arrangements (MEWAs)
Association Health Plans (AHPs)
The Women's Health and Cancer Rights Act (WHCRA)
The Mental Health Parity and Addiction Equity Act (MHPAEA)
The proposed rule for drug rebates
Attendees heard straight from regulators on developments involving Health Reimbursement Accounts (HRAs) and air ambulance billing. They were also brought up to speed on matters with reference-based pricing (RBP) – how it impacts the stop loss rating process, how claims exceptions with these programs interrelate with stop loss protection and cases of interest.
In a presentation on harmonizing health plan documents, TPAs received how-to tips for keeping their paperwork up to date and in compliance. Another session on health literacy shared ways to help plan members make more informed care decisions, and it included an interactive panel of TPAs to offer strategies and solutions. There was also a session dedicated to the emerging privacy and security considerations for self-funded plans.
Along with all of these sessions, SPBA's Spring Meeting offered workshops and covered many other topics of interest to TPAs, including legal issues with specialty drugs, cannabis coverage, religious/moral objection cases related to the contraceptive mandate, matters involving out-of-network providers and much more.
"SPBA's Spring Meetings continue to be an incredible resource for our members in terms of both regulatory happenings and sound business practices for TPAs," said Kevin Schlotman, SPBA's chairman of the board. "They provide the perfect forum for sharing important regulatory information and bringing together multiple industry perspectives in one place."
SPBA is the national association of Third Party Administration (TPA) firms that manage client employee benefit plans. It is estimated that over 75% of U.S. workers and their dependents in non-federal health coverage are in plans administered by TPAs. The clients of TPA firms include every size and format of employment, including large and small employers, state/county/city plans, union, non-union, collectively bargained multiemployer plans, as well as most industries and professions. Visit http://www.spbatpa.com for more information.