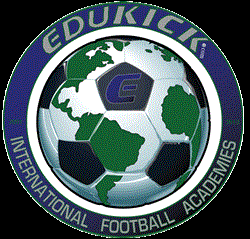 It really is wonderful to see so many of our alumni fulfilling their potential and achieving their football dreams. We are very proud to have played a part in their football development. ~ EduKick G.M., Jon Morgan
Toronto, Canada (PRWEB) February 04, 2014
EduKick International Football Academies (EIFA) announced this week from their headquarters in Toronto the 2014 update of their academy alumni most talented footballers that are landing at different levels in professional football leagues around the world. The update below is on former EduKick players that are currently living out their "footy dreams" and playing professionally in England, Switzerland, Sweden, Greece, Norway, Ukraine and Montenegro.
The first and likely most impressive success story is that of EduKick Madrid Football Academy alum, Davide Somma. Somma, currently a free agent in the United States undergoing an intensive, professional physical conditioning program. In England, Somma made a huge impression and finally landed as a regular first team squad member of the English Championship club Leeds United FC. And in 2010 Davide, who was born in South Africa but grew up in Florida, made his full international debut with the South African Men's National Team in a fixture against the USA.
Eric Behrens, a young talented German goalkeeper that attended the EduKick Manchester Football Academy last year at age 16, is now applying his trade at English Championship side, Derby County F.C. Eric attended the 2012/13 EduKick Manchester Academy where he caught the attention of the Manchester City Youth Academy coaches. He then attended several training sessions with Man City and played in a trial match for the club. After City passed on Eric he then attended a trial with Aston Villa before finally being offered a professional contract with Derby County FC after a successful trial period.
EduKick England alum Sam Zimmermann is currently representing his native Lichtenstein National U21. At the end of his program EduKick helped Sam to obtain a trial with English Championship professional team Peterborough FC and they asked him to return for a further trial during their pre-season training but Sam decided to return home to Switzerland and concentrate on his academics so he signed a contract with FC Emmenbrücke. Sam then moved on to Swiss 3rd division professional club SC Kriens representing their U21 squad where his performances got the attention of the Lichtenstein national squad. Currently, Sam is in Spain with his national team side at a training camp.
Matt Sanner, an American from Indiana, USA is an EduKick Alumni who is currently playing professionally for BK Bodens FC of the Swedish 2nd division. Matt attended the same EduKick Madrid Elite camp as fellow alum Conti Kolokotronis, and has now joined him in becoming a professional player also. After attending the intensive training camp Matt returned home and completed his Ivy League education while standing out as a center forward and attacking Midfield for the prestigious Princeton University.
American, Constantine (Conti) Kolokotronis from Sacramento, USA is an EduKick alum who is currently playing professionally in the Greek 2nd Division for Vyzas Megaron F.C. Conti, who is Greek-American and holds a Greek passport, signed his first professional contract in August 2013 after initially attending the EduKick Madrid, Spain Elite camp in the summer of 2010 and later joining the EduKick Madrid Academy program in 2011.
Miguel Hamutenya from Namibia, Africa is an EduKick alumi who is currently playing professionally with Norwegian 2nd division club Strommen FC. He confirmed this week that he just re-signed a one-year deal to remain with the club for the next 12 months. Since leaving the EduKick program Miguel signed a professional contract with Bnei Sakhnin of the Israel Premier League. After one successful season with Bnei Sakhnin Miguel then signed a contract subject to a successful work permit application with Glasgow Rangers of the Scottish premier division but unfortunately the work permit application was turned down so he could not continue with the then Scottish Champions. So finally he tried his luck in Norway where he has now established himself as a key member of the championship chasing side, Strommen FC.
Nazar Kmit from Ukraine is another EduKick England alum who is currently playing professionally in the Ukraine 2nd Division for FC Skala. Nazar earned a trial at Preston North End of the English Football League 1st Division during his time at EduKick and remained focused and determined to play football professionally after returning home. Nazar completed a successful trail at FC Skala and represented them well at youth team level and his hard work paid off with a call up the senior squad, where he has become an important member of the team
Yuya Matsumoto, age 19 from Japan, attended the EduKick Madrid Football Academy for three consecutive seasons from 2010 - 2013 during which time he worked his way onto the highest level Junior academy team of third division Spanish club AD Colmenar. Yuya signed his first professional football contract in 2013 and is now representing FK Jezero in the Montenegrin 2nd Division.
EduKick G.M. Jon Morgan says; "It really is wonderful to see so many of our alumni fulfilling their potential and achieving their football dreams. We are very proud to have played a part in their football development. We are also very happy that our professional trial programs can provide our aspiring young professional footballers with genuine exposure opportunities to the professional level of the game."
Morgan explained that for EduKick, designing EduKick "Football Trial Programs" in Madrid, Spain & Manchester, UK was the next logical step for them to take considering most young players around the world inquire about pro exposure opportunities.
The goal, according to EduKick G.M., Jon Morgan, is for each participant to enjoy their football trial experience, have fun both on and off the pitch and gain a greater understanding of their playing level in comparison to the requirements of professional European clubs. Morgan explains that on the pitch the technical football coaches work with the players on every aspect of their training to ensure they develop the physical, technical, tactical and mental foundation required for ultimate performance in the trials in a fun and challenging environment.
Morgan also said that during the EduKick trial courses, seminars are conducted on "what it takes to become a professional player" and "how to approach professional club trials" to help prepare the aspiring pro players psychologically. Players receive an evaluation and feedback on their performance during the trial program which they can take home and use to improve and develop their ability. Finally, Morgan explains that those players that impress and are selected will attend further private trials with professional clubs at a later date.
Satisfied EduKick client, Sean Bredin, the father of 16 year old Quinn Bredin, of Canada, had this to say: "We had two goals coming into this program: find a safe, hospitable, loving, professional environment that would allow a young kid to learn and experience the ins and outs of becoming a professional football player. Secondly, to secure some reputable relationships with UK teams and professionals that we could leverage for the 2014 season that would trend us down the path of scholarship football in a professional football setting. In my opinion, I think both of those goals exceeded our expectations and I owe it to you guys (EduKick) for helping us find our way over this last year."
Since 2001, EduKick has operated international football and education programs abroad and currently has academy venues in England, Spain, Italy, France, Germany, Brazil, Mexico and the United States of America. For more information, contact EIFA directly at the contact information provided in this release.