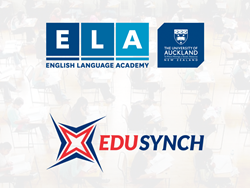 NEW YORK (PRWEB) July 08, 2020
EduSynch is pleased to announce that the company has signed a deal with the University of Auckland, New Zealand, to offer a customized English test for PhD candidates applying to the university.
EduSynch developed the test with the university's English Language Academy, or ELA. The customized solution provides a combination of both asynchronous testing procedures, AI-driven remote proctoring technology, as well as a final 1-on-1 Speaking interview executed through the platform.
The test is now readily available for any student to apply from the comfort of their own home.
"This unique situation required a unique solution," says Sean Kilachand, Co-Founder & CEO of EduSynch. "We worked with the team at ELA to make sure the platform was built to spec for the University's requirements. We've leveraged the platform's asynchronous and synchronous testing facilities, antifraud features, and the ability to schedule 1-on-1 interviews with ELA teachers to make sure new PhD candidates were vetted fully."
"We're excited to offer this solution for international PhD applicants and candidates who wish to commence their PhDs outside New Zealand during the current period of travel restrictions," says Mike Hughes, Marketing Manager at the ELA. "EduSynch's intuitive and easy to use platform is a real step forward in terms of user experience for an online language test, and its robust security features give the University of Auckland full confidence in its reliability."
By integrating the EduSynch platform into the admissions process, the University of Auckland aims to facilitate the application process for international students given the closing of most test centers around the world.
With this most recent deployment, EduSynch is looking to provide similar solutions to other universities that are looking for a digital platform to administer exams to students remotely.