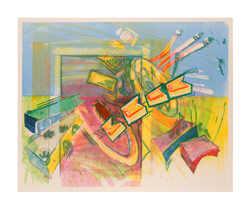 Beckett, describes his as work as "depicting the unseen elements of communication. These (spoken, unspoken, musical) elements include communication between one's self and another, our community, our world, our fears, loves and ambitions; and between our perceptions and influencing factors."
LOS ANGELES (PRWEB) January 28, 2020
Twenty Years of Paintings and Monotypes, the exhibition of Los Angeles-based artist Edward Beckett at The Walter Wickiser Gallery in New York City will close this week, January 29, 2020. Thirteen monotypes and paintings are exhibited, themed around the artist's career-long exploration of two themes: the intersection of art and music he has described as Visual Song and Questioning Time. The gallery's hours for the final exhibition days, this Tuesday and Wednesday are 11 am - 6 pm in Chelsea's historic Fine Art Building.
Beckett, a symbolic expressionist, has described his as work as "depicting the unseen elements of communication. These (spoken, unspoken, musical) elements include communication between one's self and another, our community, our world, our fears, loves and ambitions; and between our perceptions and influencing factors." He renders these subjects through four mediums - primarily printmaking, but also through ceramic sculpture, painting and iconography. His process uses a repetitive symbolic and consistent vocabulary as a composer uses rhythm and tonality "to capture mercurial, ephemeral, musical and/or percussive interchanges (seen, unseen and felt) and shape them into visual forms. If we can view the unseen, perhaps we can improve or appreciate it more."
Edward Beckett's art has been showcased in solo exhibition on both West and East (North American) coasts as well as at The Works--a major summer art festival in Edmonton, Alberta, Canada, where he was honored as a Guest Artist. The recipient of many awards, his work has been cited by art critic Peter Frank, and Frank Gettings, former curator of prints at the Hirshhorn Museum in Washington DC, among others.
The Wickiser Gallery, a Chelsea art destination for over 25 years, is recognized for championing work by American and Asian-American painters, as well as artists from China, Japan and Korea. The gallery's focus, as Wickiser notes, "is to create a visual dialogue between various cultures, and simultaneously reminds us of the ability of art to transcend cultural boundaries." Work by many of the represented artists have been exhibited at American museums including the Metropolitan Museum of Art, the Whitney Museum of American Art, the High Museum of Art in Georgia, the Dallas Museum of Art in Texas, among many others.
The show closes Wednesday evening, January 29, 2020. Gallery hours are 11 am – 6:00 pm, and by appointment. For additional information about the artist and this exhibition, please contact the Gallery, Walter Wickiser (212) 625-0601.