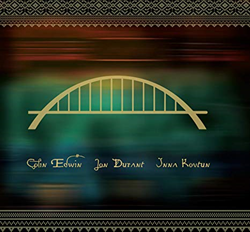 "Wild without being too far out." -Midwest Record
BOSTON (PRWEB) December 04, 2019
Following their critically acclaimed, long-running instrumental collaboration Burnt Belief, Colin Edwin (bass) and Jon Durant (guitars) have joined forces again, along with pre-eminent Ukrainian vocalist Inna Kovtun, on a new self-titled album, EDWIN DURANT KOVTUN. It's no mistake that the album's cover image features a bridge, as Edwin, Durant and Kovtun have drawn on their past influences and wealth of experiences to connect and blend seemingly unrelated musical environments, namely traditional Ukrainian and Slavic folk elements, with slices of modern electronica, unexpected twists of progressive rock, and a full range of deep atmospherics and dreamy ambient textures.
The resulting album showcases an unfamiliar but highly captivating and approachable sonic landscape, encompassing epic time-honored melodies supported by substantial rhythmic foundations embellished by Durants's ornate and innovative approach to the guitar. With artfully assembled soundscapes complementing Inna Kovtun's vivid and evocative vocals, this material sometimes shares an emotional character and atmospheric territory with groups like Dead Can Dance or The Cocteau Twins.
Album highlights include the earthy and primal "Harvest," which develops from a heavy, percolating rhythm to an urgent, insistent bassline punctuated by traditional Ukrainian wind instruments, leading to a simmering peak by Durant's unrelenting guitars. "Walking Wheel" showcases an expansive melodic vista built around an exceptional vocal arrangement by Kovtun. The propulsive electronica of "Hannochka" is a distinctive take on a folk refrain, and illustrates the artists' fresh approach to these timeless themes. This otherworldly track combines Edwin's snaking bassline and electronic drums, Durant's spacy textural guitars, Kovtun's powerful, commanding voice, and Ievgen Zharinov's traditional (but electronically treated) Ukrainian wind instruments.
The video for "Hannochka" offers a continuation of the bridge theme, filmed on and around bridges in Kiev. Inna Kovtun is the dynamic centerpiece, her motion contrasted by the considered stillness of Edwin and Durant. Visually, the video also blends old and new, with Kovtun alternately dressed in a traditional wedding dress and a modern rock outfit, while Durant and Edwin transform from their normal attire into traditional Ukrainian costumes. The video was filmed and edited by Eduard Tymoshenko and produced by Igor Romanov.
Preview/Download Album: https://music.apple.com/az/album/edwin-durant-kovtun/1477399951