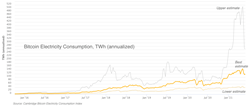 EEB answers the chronic need for more climate-friendly Bitcoin mining
LONDON (PRWEB) June 08, 2021
EEE 2.0 LLP announces the formal launch of Energy Efficient Bitcoin (EEB), their fully fungible ERC-20 Token (http://www.energyefficientbitcoin.com).
EEB answers the chronic need for more climate-friendly Bitcoin mining.
It is the second coin to launch on the Crypto Climate Exchange (http://www.ccx.earth), the world's first exchange solely dedicated to funding faster climate action, in response to investor demand after the launch of Energy Efficient Ethereum (EEE) in May.
The Cambridge Center for Alternative Finance estimates that the entire Bitcoin network uses 116.7 Terawatt Hours per year, or about half a percent of the world's total electricity consumption. That puts the digital currency roughly in line with the energy use of countries such as Argentina, Malaysia, and Sweden.
The creators of EEB have entered into an agreement with Oairo (http://www.oairo.com), a patented air-conditioning technology that can reduce the power consumption necessary for cooling computer mining units by over 70%.
Proceeds from the issue of EEB will be used to set up an optimized Bitcoin mine, purchase the most energy efficient mining units, and install the Oairo plant and technology.
The (Energy Efficient) Bitcoin produced will provide source capital for installation finance of Oairo projects worldwide, eliminating unnecessary electricity consumption.
Keiron Allen, Managing Partner at EEE 2.0 LLP, creators of EEB, said, "Bitcoin will continue to be mined for the foreseeable future, so it's important we find a way to reduce its huge energy consumption – this is possible with existing technologies, in particular through our partner, Oairo's, patented technology."
One of the goals of the program is to define the "EEB Protocol" which will set optimum standards, technology, and know-how to mine Bitcoin in the most energy efficient way. This open-source protocol will be shared with the wider Bitcoin and mining communities.
"EEB will not only produce the most (Energy Efficient) Bitcoin ever, but we will also test and develop a protocol – the EEB protocol – that will be a best practices guide for the Bitcoin community to optimize energy efficiency within Bitcoin mines," Allen continued.
Bryan Saxby, CEO of Oairo, stated, "It is extremely exciting to be bringing two 21st century technologies together. The financing that (Energy Efficient) Bitcoin will be able to provide will offer many multiples of energy savings as a result of installing Oairo technology globally. It's also great to be entering into this market segment which has had such notorious levels of energy consumption – much of that is down to cooling the computer units – and we have already proven we can make a big difference when it comes to that."
For more information, please visit:
http://www.energyefficientbitcoin.com