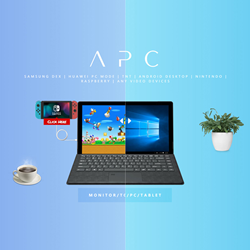 APC stands for : Android/Apple Phone Computer
HONG KONG (PRWEB) July 13, 2020
Nowadays, daily smartphone usage is highly frequent and important, which will boost mobility computing rapid demands in the coming years. Many smartphone users are eager for a versatile desktop-mode for their multi-window or multi-task usage to replace heavy computers when on-the-go. It means smartphones becoming mobile computers is coming true. Like Samsung DeX or Android Q onward smartphone OS, users are ready for smartphone desktop-mode usage.
In the past, a conventional laptop/tablet's screen, keyboard, and mouse touchpad were only used for itself, not for external mobile devices or smartphones. A company called EEENEW thoroughly built a new type of tablet, which can be hot-swapped between smartphone desktop-mode and PC Windows mode. Hot-swap in the same tablet, name it APC+, stands for Android/Apple Phone Computer. APC+ also represents Advanced Phone Computer or Advanced Personal Computer. It has built-in Windows and smartphone desktop mode switchable hardware. That's truly convenient for work efficiency or smartphone gaming on-the-go.
Before the APC was introduced to the world, the traditional way to use a smartphone desktop-mode was to connect a smartphone to a dock, an external monitor, and a keyboard mouse. It needed many peripheral connections, and it was not possible to hot-swap between smartphone desktop-mode and PC mode. Since the rise of APC, that awkward has changed, the tablet's touchscreen and keyboard mouse touchpad can be used for the smartphone or Windows side upon user request.

Turn Android smartphone into desktop mode, a full desktop experience with the built-in fingerprint keyboard, mouse touchpad and touchscreen
Standalone tablet PC that is switchable between Windows10 PC mode & smartphone desktop-mode
No need to carry a Windows laptop or monitor for your smartphone at the same time - now they are all combined into an APC tablet
APC can be a portable touchscreen monitor for your laptop via USB-C or HDMI
Support Samsung DeX, Huawei PC mode, Android, TNT, MacBook, PS4 / XBOX / Nintendo Switch and Windows10 PC
No latency and no lag when using desktop mode for Android - it's purely an external touchscreen for your smartphone
13.3 inches, 1080P, touchscreen; flexible viewing angle/rotatable
Upward scalable, newer Android smartphone compatible; lightweight, compact, portable, all-in-one
Unlike other counterfeit products, APC provides a real desktop-mode for smartphones and has video-in USB-C and HDMI ports. APC+ provides a true tablet PC inside. Fully compatible with Nintendo Switch, Samsung DeX, EMUI, OnePlus, TNT, Windows10, Linux, LG, and Asus smartphones - all work in APC tablet!
APC will change the computer world history. The APC has hardware hot-swap for smartphones to become the desktop computer, built-in Intel & Windows. APC is a super-efficient tablet for computer and smartphone users.
To learn more details, check out the below links. APC is about to launch, don't miss out get your super early bird offer.