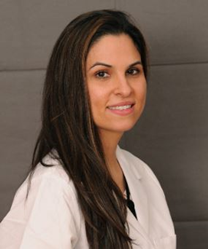 What people often lump together as 'pimples,' actually includes different forms of acne, which may require different treatment approaches. Blackheads – medical name 'open comedones' – are one type.
ASTORIA, N.Y. (PRWEB) September 06, 2019
Most people have had acne at some point in their lives. "As many as 50 million people in the U.S. are dealing with acne at this moment," notes Effie Rabinowitz, a certified registered physician's assistant specializing in dermatology with Advanced Dermatology PC. "And they're not just teenagers. The factors that contribute to 'problem skin' – hormones, genetics, stress, lifestyle – can pop up throughout our lives."
"What people often lump together as 'pimples,'" Rabinowitz continues, "actually includes different forms of acne, which may require different treatment approaches. Blackheads – medical name 'open comedones' – are one type."
Acne forms when our skin's pores – the openings for hair follicles – get clogged with dead skin cells, sebum skin oil, and, in more serious cases, the surface bacteria p. acnes, the condition's namesake.
"Comedones are a less severe form of acne that typically do not involve inflammation," explains Rabinowitz. ""Blackheads are called 'open' to differentiate them from 'closed comedones,' or whiteheads."
"With blackheads," Rabinowitz emphasizes, "it's important for patients to realize the dark spot is not dirt that can be scrubbed away. Rather, because the plugged pore is open, it's exposed to the air, which oxidizes the trapped skin debris, making it dark."
The fact that blackheads are less severe doesn't mean they'll go away on their own. "Early treatment can prevent more serious acne from developing," notes Rabinowitz. "And that's important, because acne can have serious repercussions, contributing to social anxiety and depression."
To help steer clear of blackheads, Rabinowitz offers the following suggestions:
5 Tips to Say Goodbye to Blackheads:
1. Use OTCs with TLC: "Over-the-counter treatments that have retinoids, alpha hydroxy acids (think lactic acid), beta hydroxy acids (think salicylic acid), or sulfur can dissolve and eliminate the plugged debris," says Rabinowitz. "Adding in an antibacterial agent such as benzoyl peroxide can prevent further acne. But patients should be careful not to overdo treatment approaches: choose one pairing and follow the directions. It's also important to treat our skin gently: no scrubbing, no overwashing (morning, night, and when we work out is enough), and regular moisturizing. Products –including makeup, hair care, and sunscreen – should be soap-free, oil-free and 'non-comedogenic.' These steps can help prevent drying and irritation that exacerbate acne."
2. Treat the whole zone: "To prevent reoccurring problems," notes Rabinowitz, "it's important to also apply products to the skin surrounding the blackheads so that the entire susceptible area is treated, with the exception of sulfur-based treatments, which should be limited to the target spot."
3. Resist the urge: Don't pop that pimple!: "It's challenging," notes Rabinowitz, "but patients really want to avoid picking at or trying to 'pop' any blackheads. At the dermatologist's office, extraction treatments can safely remove clogged debris. But a DYI approach at home can push the debris further into the skin. And touching the affected area can add oil and bacteria, exacerbating the problem."
4. Take your time: "Blackheads won't disappear overnight," says Rabinowitz. "Problem areas may take up to four months to completely clear. But patients should start to see improvement by six or eight weeks. If not, then it's time to consider a different approach. Stubborn blackheads can be addressed at the dermatologist's, whose office can offer a range of approaches, including extraction, laser treatments, chemical peels, and prescription medication."
5. All's clear? Now, stay with the program!: "Practicing preventative maintenance is key," emphasizes Rabinowitz. "Once patients have found an approach that works, they'll want to keeping using those products to prevent additional outbreaks."
"The fact that acne happens to almost everyone doesn't lessen its negative impact," concludes Rabinowitz. "Taking steps to eliminate blackheads can alleviate the distress acne may cause."
Bio: Efstratia Fotinos-Rabinowitz, RPA-C is a Certified Physician Assistant through the National Commission of Certification of Physician Assistants.
Advanced Dermatology P.C. and the Center for Laser and Cosmetic Surgery (New York & New Jersey) is one of the leading dermatology centers in the nation, offering highly experienced physicians in the fields of cosmetic and laser dermatology as well as plastic surgery and state-of-the-art medical technologies. http://www.advanceddermatologypc.com.