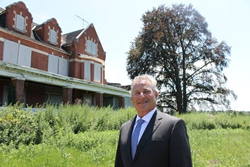 Martin Berger, development manager with EFG/Saber Heritage SC, in front of the former hospital director's house, which is being restored, and the great beech tree, which the developers saved.
POUGHKEEPSIE, N.Y. (PRWEB) August 08, 2019
Developers have begun clearing the site of a former state psychiatric facility on Route 9 to make way for Hudson Heritage, a $300 million mixed-use community on 156 acres of land.
EFG/Saber Heritage SC, LLC has received site plan and subdivision approval to begin demolition of the former Hudson River State Hospital campus, which operated in the Town of Poughkeepsie from 1873 until its closure in the early 2000s.
"We are thrilled with the opportunity to transform this magnificent piece of land into a thriving, open-air community in which residents are within walking distance of top-notch restaurants, shopping, health care, education, entertainment, and beautiful nature trails – all the amenities they need to live, work and play," said Martin Berger, development manager with EFG/Saber Heritage SC, LLC.
Hudson Heritage is being designed as an intergenerational, walkable community with 750 units of townhomes, rental apartments and assisted-living housing. The property will feature a 150-room hotel and conference center; 350,000 square feet of commercial and retail space including shops, restaurants, child care and a fitness center; 40,000 square feet of urgent and primary care medical facility/office space; and a 24,700-square-foot education/performing arts center. The grounds will include walking trails and more than 60 acres of open parkland.
Charter Realty & Development of Westport, Conn., is handling commercial leasing.
Representing one of the first retail tenants to break ground at Hudson Heritage, ShopRite plans to open a full-service, state-of-the-art supermarket later next year. The 64,000-square-foot store is expected to add more than 200 jobs to the local economy.
"We are pleased to announce plans for our ShopRite of North Poughkeepsie, and look forward to providing local shoppers with the outstanding customer service, variety, value, low prices and convenient amenities that ShopRite is known for," said Brett Wing, president, ShopRite Supermarkets, Inc., which operates ShopRite stores in the Hudson Valley, Capital Region and New Jersey. "We are especially proud to be part of this new and exciting development that is taking place at Hudson Heritage."
The ShopRite of North Poughkeepsie is slated to open in late 2020. The store will feature an array of private-label, national brand and organic offerings, and 14 self-checkout lanes. It will also offer ShopRite from Home®, where customers order online and can pick up their groceries at the store or have them delivered.
"ShopRite is a perfect addition to our Hudson Heritage community," said Berger. "It is known for its quality products and convenience, which fits right in with our vision to give residents and visitors everything they need in one convenient location."
The site of Hudson Heritage is neighbored by Marist College, Health Quest, Vassar Brothers Medical Center and the Culinary Institute of America, providing a winning combination of "Eds and Meds" for economic viability.
Set against the backdrop of the majestic Hudson River, the property offers spectacular views and features an impressive High Victorian Gothic building, "the Kirkbride," designed by Vaux, Withers & Co. The Kirkbride and five other buildings will be preserved for adaptive reuse, and the great lawn will be restored. The grounds were designed by Frederick Law Olmsted and Calvert Vaux, who designed Central Park in Manhattan.
Once completed, Hudson Heritage will create 700 permanent jobs and generate $2 million in annual fees to the town and $8 million in annual property taxes. Construction is expected to take three to six years.
About EFG/Saber Heritage SC, LLC
EFG/Saber Heritage SC, LLC is a joint venture between Saber Real Estate North, LLC and EnviroFinance Group, LLC. Armonk-based Saber Real Estate North is a fully integrated real estate development company specializing in retail, residential and mixed-use projects. EnviroFinance Group is a national, premier land reuse and redevelopment company specializing in the adaptive reuse of former institutional and industrial properties.