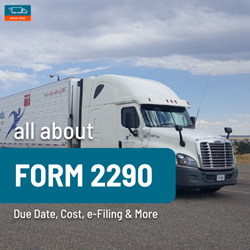 Our goal is to empower the taxpayer.
MANHATTAN BEACH, Calif. (PRWEB) April 08, 2021
eForm2290 launched the Knowledge Hub in April 2021 to empower truckers with detailed information on the 2290 HVUT tax. Unlike other e-filing service providers who solely offer e-filing service, eform2290 aims to provide a holistic approach through highly informative literature that will help truckers make informed decisions while e-filing their form 2290.
From form 2290 instructions, terminologies, and tax laws to payment & penalty, the knowledge hub offers detailed insights that simplify the e-filing process. Truckers will have access to step-by-step filing processes, information on each form field, straightforward explanation of tax terminologies, among many other valuable resources pertaining to HVUT tax.
The IRS Form 2290 filing instructions are accompanied by explainer videos, self-explanatory infographics, and bite-sized content for easy understanding, steering readers away from complicated tax jargon. Truckers generally rely on the IRS helpline to resolve queries while filing their 2290 form.
During peak filing season, truckers may not get satisfactory assistance from the IRS, leading to more tax filing complications down the road. The knowledge hub will eliminate the need for extended support, as truckers will have access to all the details they need while filing their 2290 form.
About eForm2290:
eForm2290 is an IRS-authorized tax filing software platform offering fast and easy 2290 e-filing service for American truckers. Apart from HVUT form submission, eform2290 also offers services such as filing of tax refund, VIN correction and submission of amended 2290 return.