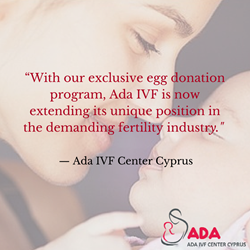 At the Ada IVF Center, the dreams of building a family for each of our intended parents inspire us.
New York, NY (PRWEB) March 30, 2015
The fertility team at Ada IVF Center Cyprus has compiled the most frequently asked questions to give intended parents across the globe a deeper understanding on the process of egg donation.
After unveiling the most affordable, non-sharing egg donation program in early February, the IVF clinic has witnessed an increase in fertility patients. Led by Dr. Verda Tunçbilek, the reputable fertility center provides attentive reproductive care — with all-inclusive IVF treatment options designed around patient comfort.
The success of the egg donation program offered in the scenic Mediterranean town of Kyrenia is contributed to leading fertility expertise, innovative IVF techniques, state-of-the-art laboratory conditions and breakthrough technologies.
Egg Donation and the Gift of Life —
Ada IVF Center answers the key questions on egg donation in North Cyprus:
What is Egg Donation?

Egg donation is a process in which the eggs of a young, healthy woman are combined with sperm in the laboratory via in-vitro fertilization (IVF). The resulting embryos are transferred to the uterus of the recipient. Women who participate in the exclusive egg donation program are anonymous donors. All donors undergo an extensive screening process, including advanced medical testing. With the help of egg donation in North Cyprus, many couples today experience the joy of pregnancy and childbirth.
What is the medical process of using an egg donor?

Hormones are used to synchronize both the donor's and the recipient's menstrual cycles. The egg donor is treated with injectable fertility medications to stimulate the development of multiple follicles containing eggs. Medications are used to prepare the recipient's uterine lining for implantation. Ada IVF Center fertility specialists monitor the donor by ultrasound and blood tests for 10 to 14 days, until the eggs are ready to be retrieved. Once the donor's eggs reach maturity, an egg retrieval is scheduled. On the same day a sperm sample is provided by either the partner or sperm donor. Retrieved eggs are examined by an Ada IVF embryologist, placed in an incubator and inseminated with sperm. The fertilized eggs are placed in medium to promote growth prior to implantation. The embryo transfer is an ultrasound-guided procedure that does not require anesthesia. Embryos are placed into a woman's uterus using a catheter, which is inserted through the cervix. Dr. Verda will measure the recipient's progesterone levels after one week to ensure they are sufficient to support a pregnancy. If the recipient becomes pregnant after 14 days, hormonal support is continued and progress is monitored carefully for another four to five weeks. Any additional high-quality embryos from the cycle can be frozen and preserved to use at another time.
Who benefits from the use of donor eggs in North Cyprus?

For many couples, choosing to use donated eggs provides the best option for family building. All situations are different, and there are several reasons to consider the use of donated eggs when planning to have a child. These may include the potential to transmit a genetic disease to the child, poor quality eggs of the mother, premature ovarian failure in which menopause has begun earlier than usual, diminished ovarian reserve, or a history of pregnancy failure, and the distressing effects from cancer-chemotherapy and radiation. The experienced team of fertility doctors at ADA IVF also offers family building options using egg donation for same-sex couples.
What criteria is accessible for choosing an egg donor?

There are a variation of factors that should be taken into consideration in making this important decision. Through a streamlined process, the entire selection process at ADA IVF Center Cyprus is relaxing and stress-free as possible. The non-sharing egg donation program is comprised of compassionate, loving women with diverse backgrounds and a multitude of physical traits. Recipients can choose an egg donor based on hair and eye color, skin type and weight, fertility history, occupation, ethnic background, educational background, hobbies, and personality characteristics. Blood type can also be a factor in the selection of a donor.
Elite Egg Donation Program —
Intended parents who wish to move forward with egg donation at Ada IVF Center Cyprus are embraced by an immediate choice of experienced proven egg donors, reduced fertility treatment costs, and a high levels of trust and transparency. Dedicated anonymous donors are only used by one recipient couple, and are not available to other couples until the related cycle is completed.
"At the Ada IVF Center, the dreams of building a family for each of our intended parents inspire us. With our exclusive egg donation program, Ada IVF is now extending its unique position in the demanding fertility industry," stated Amy Saracoglu, International Patient Coordinator at Ada IVF Center Cyprus.
About Ada IVF Center Cyprus
Led by renowned fertility specialist, Dr. Verda Tunçbilek, Ada IVF Center Cyprus is an extensive IVF center located in the Turkish Republic of Northern Cyprus — with a predominant focus on patient satisfaction and happiness. In addition to the conventional method of in-vitro fertilization (IVF) treatment, Ada IVF also provides donation treatments — egg donation, sperm donation and embryo donation; along with gender selection for family balancing which is carried out during Preimplantation Genetic Diagnosis (PGD) treatment. With a profound commitment to provide technology in a private and personal environment, Ada IVF specialists encourage intended parents to hold on to their dreams of building a family.