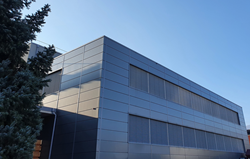 State-of-the art labs and facilities reflect our aims to deliver high performance fuel cell products.
NYON, Switzerland (PRWEB) May 04, 2021
It offers nearly 500m2 of curated lab space, with dedicated hydrogen supply, multiple fuel cell testing stations of up to 250kW, rapid prototyping, and production capabilities. Within a high-tech hub of aerospace and specialised engineering companies, it is ideally located 30 mins from Geneva Airport and world class academic institutions such as EPFL. EH Group has earmarked a further 4000m2 of dedicated production space onsite for further expansion into 2022.
"As we rapidly scale up our activities, it became increasingly important to secure best-in-class facilities into which we could expand. They had never been occupied, and could thus be customized for our specific requirements, particularly with regards to hydrogen supply and testing facilities. With room to deploy our fully automated production process, and an ecosystem of leading hi-tech companies nearby, this move will serve to grow the team and accelerate our fuel cell deployment capabilities", says Mardit Matian, founder of EH Group.
EH Group Engineering AG – Founded in 2017, EH Group is focused on the design and production of its innovative fuel cell technology, across both stationary and mobile applications. Its high-performance fuel cell stacks and systems offer market leading power density. The implementation of a fully automated production process is aimed at widespread deployment of its fuel cell technology for a decarbonised future.
For further information please, visit http://www.ehgroup.ch or contact us at info@ehgroup.ch.