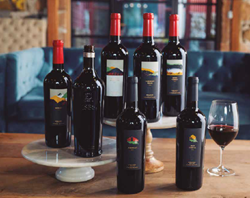 ST. HELENA, Calif. (PRWEB) February 18, 2021
Ehlers Estate, the 42-acre organically farmed estate vineyard in Napa Valley's Saint Helena AVA, is announcing the launch of its 2018 vintage wines with a complete redesign and individualization of all wine labels. The 2018 vintage is Winemaker and General Manager Laura Diaz Muñoz' inaugural vintage since joining the historic Napa Valley estate.
Since her appointment to the Ehlers Estate team in July of 2018, Laura's singular goal has been to create unforgettable wines with layers of complexity and a remarkable expression of fruit. Originally from Madrid, Laura's winemaking career in Napa Valley traces back to 2007 when she began working with Chris Carpenter at Jackson Family Wines, as Associate Winemaker at Cardinale, Lokoya, Mt. Brave and La Jota. In 2011, she spearheaded the launch of the company's Galerie wines, driven by her vision and European style as the primary winemaker to create nuanced wines and dynamic labels that cohesively present "portraits of place" from some of Northern California's most prized appellations. Working with some of the best mountain and valley floor vineyard sites in California both prepared and inspired Laura to take on the winemaking role at Ehlers Estate where she could steward the vineyard's unique combination of vines, soils and microclimates.
Winemaker and General Manager Laura Diaz Muñoz says, "From a winemaking perspective, 2018 was a great vintage overall. There weren't as many challenges in comparison to previous years - drought, low yields, heatwaves - so I describe this vintage as 'slow and easy'. It allowed me to spend a lot of time in the vineyard to get to know each block and its variances. It also allowed me to let the fruit hang a little longer to achieve better fruit concentration in the wines and full phenolic ripeness. I couldn't have asked for a better vintage to start my winemaking journey at Ehlers Estate."
The 2018 vintage is the culmination of Laura's ongoing winemaking journey and clear representation of her balanced approach. With deep reverence for the estate's heritage and historic terroir, Laura applies her experience, unique insights and proclivity for consciously organic winemaking to expand the diversity and nuance of the Ehlers Estate portfolio.
"While walking the vineyard that first season and making the wines in the cellar - tasting them and exploring their potential, observing how they were evolving in the barrels - I thought a lot about making each wine a signature for its varietal and for Ehlers Estate, which led me to the idea of changing our labels to uniquely highlight each wine. We came up with one-of-a-kind labels which connect each wine to the Estate, its story, the vineyard and the tasting characteristics. Our design partner, artist Marta Botas, flew to our estate from Spain to capture the right colors, textures and panoramas to represent the vistas and vibrant dynamic of the Ehlers Estate vineyards and team. We are proud of the resulting labels and excited to reintroduce the wines," continues Laura Diaz Muñoz.
The 2018 vintage features the Ehlers Estate 1886 Cabernet Sauvignon ($140), J. Leducq Cabernet Sauvignon ($100), Portrait Red Blend ($72), Cabernet Sauvignon ($72), Cabernet Franc ($72), Merlot ($55), Petit Verdot ($72), Sauvignon Blanc ($36 and Sylviane Rosé ($36). The nationwide roll out of the portfolio's red wines begins in March of 2021. For more information about Ehlers Estate, please visit http://www.ehlersestate.com.
About Ehlers Estate
Ehlers Estate is a picturesque 42-acre vineyard with a stone barn winery dating back to 1886. The original winery was established by Bernard Ehlers. Today, the winery is owned by the Leducq Foundation, a trust established by Jean and Sylviane Leducq in 1996. The Leducqs came to the Napa Valley from France in search of a contiguous estate to create a winemaking legacy much like the great chateaux of Bordeaux. The mission of the Leducq Foundation is to improve human health through international efforts to combat cardiovascular disease and stroke. Proceeds from tasting fees and sales of Ehlers Estate wine help support the Leducq Foundation's international cardiovascular research programs. The Leducq Foundation is committed to establishing Ehlers Estate as one of Napa Valley's greatest estates, where farming and winemaking are always top priority.
The vineyard is divided into five main blocks (based primarily on soil type) and 25 sub-blocks. It has six different clones of Cabernet Sauvignon planted on multiple rootstocks, seven sub-blocks of Merlot, four of Cabernet Franc, two of Sauvignon Blanc, and a block of Petit Verdot. Ehlers Estate received organic certification from the CCOF in 2008. The vineyard's northern Napa Valley microclimate is defined by cool fog in the mornings, burnt off by bright, full sun at mid-day, and breezes in the afternoon to ensure slow, steady, and even ripening for the grapes.