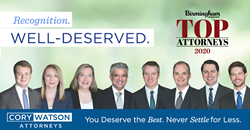 BIRMINGHAM, Ala. (PRWEB) April 27, 2020
Cory Watson Attorneys is proud to announce that eight of the firm's lawyers were recognized as 2020 Top Attorneys by Birmingham Magazine.
Birmingham Magazine conducted its eleventh annual peer-reviewed survey, asking more than 4,000 local attorneys and registered members of the Birmingham Bar Association for their nominations. Attorneys were recognized for their experience and knowledge within 39 practice areas.
The Cory Watson attorneys selected as Top Attorneys of Birmingham include:

These leading lawyers are chosen for their high degree of peer recognition and professional achievement, and we are proud to have them as a part of our team.
On behalf of our thousands of clients nationwide, each of us at Cory Watson Attorneys congratulates this talented group for their outstanding achievement and well-deserved recognition.
The complete list of Top Attorneys appears in the April 2020 issue of Birmingham Magazine.
About Cory Watson Attorneys
Cory Watson Attorneys is a nationally recognized personal injury law firm with offices in Birmingham, Alabama; Memphis, and Nashville, Tennessee. The firm has recovered more than $2.7 billion for clients across the country. Cory Watson attorneys are frequently at the forefront of major class actions and multidistrict litigations involving dangerous pharmaceuticals and product liability and are often appointed to leadership positions in national cases. Firm practice areas include Personal Injury, Product Liability, Class Action, Asbestos, Business & Commercial Litigation, Dangerous Pharmaceuticals, Defective Medical Devices, and Environmental/Toxic Torts.
To learn more, visit CoryWatson.com.