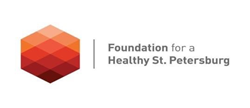 The Empowerment Grants give them the space to innovate, experiment and build worthwhile initiatives and collaborations
ST. PETERSBURG, Fla. (PRWEB) August 24, 2018
Pinellas County has a wealth of nonprofit organizations that are poised to take their work to the next level but need a bit of a boost to fuel their efforts. This week, eight small-to-mid-sized nonprofits received Empowerment Grants from the Foundation for a Healthy St. Petersburg for their community enhancing programs.
The Empowerment Grants are designed to support nonprofit and public organizations with operating budgets of less than $2 million. The grant awards range between $40,000 and $100,000 and will be used to launch a new initiative, build organizational capacity, expand or sustain a successful project, start or strengthen a collaboration or convene and plan a future collaboration. Awarded organizations serve residents of South Pinellas County, defined as south of Ulmerton Road and east of Seminole Boulevard.
The grants represent the type of flexible funding that most nonprofit leaders identify as a significant need to help their organizations grow in size, mission and impact. Only 39 percent of Pinellas County nonprofits report having ample resources to meet annual needs, according to the Foundation's 2018 Nonprofit Assessment report.
"The Foundation's mission of advancing health equity depends on strong nonprofit and public sector partners," said Randall H. Russell, the Foundation's President and CEO. "Modestly scaled organizations do much of the heavy lifting in our communities to address the underlying conditions that contribute to good health. The Empowerment Grants give them the space to innovate, experiment and build worthwhile initiatives and collaborations."
The recipients of the 2018 Empowerment Grants are:
BRIGHT COMMUNITY TRUST, $64,400 to add a new full-time staff position, an equity hire from the South St. Petersburg CRA, and implement business and leadership succession planning for the organization.
INNER EXPLORER INC., $65,000 to promote health and well-being at 24 Head Start and Early Head Start centers in the St. Petersburg area through a daily mindfulness practice.
LEAGUE OF WOMEN VOTERS OF FLORIDA EDUCATION FUND, INC., $99,642 to create the St. Petersburg Civic Health Index Report and fuel community solutions to the identified challenges. The efforts will provide civic education to the community as well as advocacy training with students to develop civic engagement leadership skills.
LIGHTHOUSE OF PINELLAS INC. (LHP), $50,000 to hire a full-time staff person who will help clients find employment and, with input from the St. Petersburg Chamber of Commerce, create a database of businesses that use Assistive Technology (AT) and are prepared to employ blind and visually impaired residents as well as train potential employers for LHP clients.
PINELLAS COUNTY HOMELESS LEADERSHIP BOARD INC., $100,000 to pilot an assessment and diversion program that offers flexible financial assistance to allow south county emergency shelters (St. Vincent de Paul Center of Hope Family Shelter; The Salvation Army St. Petersburg Emergency Shelter for Families; St. Petersburg Free Clinic Family Residence; and Community Action Stops Abuse [CASA] Shelter) to locate immediate, alternative housing for families with minor children, instead of using shelters or other homeless housing resources.
POLICE ATHLETIC LEAGUE OF ST. PETERSBURG, INC., $100,000 to support opening a satellite location in the Jordan Park Housing Development for its residents and the surrounding community, in partnership with the Pinellas County Urban League and the Pinellas County Housing Authority. The efforts will provide afterschool programs for youth and pre-teens in the Jordan Park community.
PROJECT PROSPER, INC., $50,000 to hire the first Executive Director for the organization, which provides financial services to support immigrants and refugees. The grassroots organization has served the community for 10 years and is ready to employ full-time leadership to serve the community and ensure sustainability of the organization.
START RIGHT NOW, $40,000 will be used to develop a five-year strategic plan and improve the social media strategy for the organization that addresses youth homelessness in Pinellas County.
ABOUT THE FOUNDATION FOR A HEALTHY ST. PETERSBURG
The Foundation for a Healthy St. Petersburg is a private foundation formed in 2013 following the sale of the nonprofit Bayfront Health St. Petersburg. It is the steward of almost $180 million in assets to support health equity in Pinellas County. The Foundation inspires and empowers people, ideas, information exchange, organizations and relationships to end differences in health due to social or structural disadvantages and improve population health.