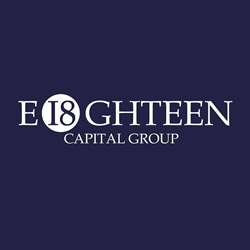 As a heavy investor in various tech industries, I am always exploring newly introduced products that stand to make big waves, and CES is the perfect venue to see a lot of the options that are coming into market
KANSAS CITY, Mo. (PRWEB) January 06, 2020
Michael Gortenburg, a Founding Principal of Eighteen Capital Group (18CG) - a real estate focused private equity firm based in Kansas City, Missouri – is announcing his plans to attend this year's 2020 Consumer Electronics Show (CES) in Las Vegas, Nevada.
Owned and produced by the Consumer Technology Association (CTA), CES is an annual tradeshow dedicated to presenting the latest innovations and developments in consumer electronics. Thousands of companies, manufacturers and tech developers, along with industry leaders and over 170,000 attendees from across the globe will congregate at the 3-day event to share their thoughts and showcase the newest additions and more to the field of consumer technology.
This year's show spans across all categories and includes cutting-edge expos related to topics like 5G, the automotive industry, smart cities, health and wellness, artificial intelligence, and more. It is designed to provide a glimpse into the world of tomorrow and the impact that consumer electronics will have on the average lifestyle.
As an owner of more than 100 investment entities and as a Founding Principal of a private equity firm, Gortenburg makes it a point to attend CES every year in search of new investment opportunities and to stay current on trends within the consumer technology sector.
"As a heavy investor in various tech industries, I am always exploring newly introduced products that stand to make big waves, and CES is the perfect venue to see a lot of the options that are coming into market" stated Gortenburg. "Consumer electronics is especially interesting because it's the technologies that we all use on a day-to-day basis, and they have the potential to dramatically change the way we all live our lives."
CES 2020 is slated to begin on Tuesday, January 7th and will feature influential speakers throughout the week, such as Samsung's President and CEO of Consumer Electronics Hyun-Suk Kim, U.S. Secretary of Transportation Elaine Chao, and Special Advisor to the President Ivanka Trump.
About Michael Gortenburg
Michael Gortenburg is a Founding Principal of Eighteen Capital Group (18CG) and owner of more than 100 investment entities–a diverse portfolio focusing primarily on multifamily housing units. In addition to overseeing all corporate and individual property functions for 18CG, Michael is involved in a number of other operational businesses, such as digital media and software companies. For more information about Michael Gortenburg, please visit http://www.michaelgortenburg.com.