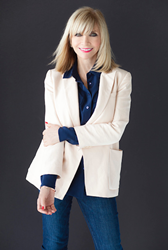 "The world of PR found me. My team and I have all the passion, gratitude, and hunger to grow clients' careers. Even after 30 years, I truly feel like this is just the beginning of what we can offer."
BEVERLY HILLS, Calif. (PRWEB) July 10, 2020
In 1990, Eileen Koch, a single mother and former professional dancer, began a national publicity campaign for a beloved restaurant in Los Angeles called Stellini's. This was client number one for her brand new publicity firm, headquartered right out of her living room. Just a few short years later, Eileen's career skyrocketed, literally, when her then client—iconic Beverly Hills hairdresser Cristophe was called in to style President Clinton's hair on-board Air Force One, parked on the tarmac of LAX Airport.
Now, 30 years later, Eileen and her company, EKC PR, have gone on to be evergreens and trendsetters in the wilds of the evolutionary and always fickle public relations industry. Headquartered in the Beverly Hills triangle, EKC PR has firmly developed itself as one the industry's leading full-service branding, digital marketing, and public relations companies today, showcasing a comprehensive staff and a bustling list of world class clients.
"My team and I have all the passion, gratitude, and hunger to grow clients' careers," Eileen enthuses. "Even after 30 years, I truly feel like this is just the beginning of what we can offer."
EKC's tally of wins over three decades includes campaigns for superstar entertainers, world-famous models, top athletes, fashion icons, clothing stores, fine restaurants, household name companies, visionary entrepreneurs, celebrity doctors, stylists, and numerous others.
"I have learned so much over the years, not just about business, but about people. Their loves, desires, and dreams are left up to us," Eileen shares. "PR goes deep in many ways, but one is that as a publicist, I know I have people's careers in my hands and that is never to be taken lightly."
Considered, and by choice, a boutique firm, those who hire EKC PR work directly with Eileen, whereas many other public relation companies don't offer clients contact with the leader. Though EKC PR has grown to include a staff of spark plug publicists and creators in social media, videography, photography, and design, Eileen is always involved and available to address the specific needs of each and every client.
Having emerged a thought leader in the realm of PR, Eileen's bold strategies, steely determination, business acumen and a professional swagger have made her "one to watch" in this field.
In addition, her personal story of transitioning from a promising career in the arts to the harsh realities of being a single mom still continue to inspire other enterprising female entrepreneurs. With her legacy assured, Eileen Koch celebrates 30 years looking ahead. For her, PR has been something of a predestined love affair that continues to grow stronger with every year. That sentiment is evident in Eileen's signature quote: "The world of PR found me."
For more information about EKC PR, please visit their website. To interview Eileen Koch, email info@ekcpr.com or call 310-441-1000.
###