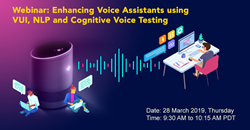 Join the webinar to learn how you can address the challenges, skill development, integration, and testing of Voice Assistants
SAN JOSE, Calif. (PRWEB) March 19, 2019
eInfochips (an Arrow Company), a global provider of product engineering and semiconductor design services, today announced that it will host a complimentary live webinar focused on enhancing Voice Assistants using Voice User Interface (VUI), Natural Language Processing (NLP), and Cognitive Voice Testing.
To register for the complimentary webinar, please visit: https://www.einfochips.com/enhancing-voice-assistants-using-vui-nlp-cognitive-voice-testing/
When: 28 March 2019, Thursday | Time: 9:30 AM to 10:15 AM PST
Where: Through GoToWebinar [online]
Why to attend:
In recent years, voice user interface or VUI is quickly gaining attention over conventional touch-based UI, allowing users to interact with devices and their applications through voice commands.
According to Google UK, 75% of consumers said they search more now and they use voice search, while 83% of consumers agree that voice capabilities will make it easier to search for things and 89% believe voice will enable users to find things more quickly.
VUI technologies have reached a point where understanding of user's intent, and not mere words, will make or break the wow factor in user experience. In order to create an effective VUI system, the design engineers need to overcome the complex challenges in comprehending the user's intent and the intricacies in human communication.
On the other hand, VUI Testing also comes with its own set of unique challenges. Apart from the regular types of testing methodologies like unit, system, integration, performance, endurance, etc., testers also need to ensure that VUI has been tested for different languages and multiple commands/utterances for the same skill. The number of test cases can become exponentially higher for normal manual testing.
Topics to be covered:

Challenges and best practices for enhancing VUI experience
Discuss the various available voice assistants and in-depth VUI use case with Amazon Alexa skills
How Natural Language Processing (NLP) can be used to build and enhance voice skills
Deep dive into designing a Cognitive Voice Assisted quality automation framework, with inherent Machine Learning capabilities for automated data generation
Who will benefit from the webinar:

Product managers and Engineering leaders with digital technology portfolio
Solution and technology architects in digital engineering
Engineers involved in design, development, and testing of voice assistants
About eInfochips:
eInfochips, an Arrow company, is a leading global provider of product engineering and semiconductor design services. The company's service offerings include digital transformation and connected IoT solutions across various cloud platforms, including AWS and Azure.
Along with Arrow's $30B in revenues, 20,100 employees, and 349 locations serving over 80 countries, eInfochips is primed to accelerate connected products innovation for 200,000+ global clients. eInfochips acts as a catalyst to Arrow's Sensor-to-Sunset initiative and offers complete edge-to-cloud capabilities for its clients through Arrow Connect.
Visit at http://www.einfochips.com. To request more information, contact Sooryanarayanan Balasubramanian at sooryanarayanan.b@einfochips.com