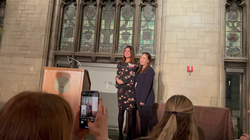 CHICAGO (PRWEB) February 03, 2023
Salvi, Schostok & Pritchard is pleased to announce that attorney Eirene N. Salvi was honored with the "Rising Star Award" at the Asian American Bar Association of the Greater Chicago Area's 35th Annual Installation Ceremony.
The annual dinner, which was held at the University Club of Chicago on February 1, recognizes esteemed colleagues in the legal community as well as the organization's incoming officers, board of directors, and honorary directors.
Salvi, Schostok & Pritchard was a proud sponsor of the 2023 event, proceeds of which benefit the AABA Law Foundation's efforts to support the development of Asian Pacific American law students through scholarship.
Eirene Nakamura Salvi concentrates her practice medical malpractice, personal injury, and product liability cases. During her time with the firm, she has obtained a number of noteworthy verdicts and settlements, including a record-breaking $148 million jury verdict on behalf of a dancer paralyzed by a collapsed pedestrian shelter at O'Hare International Airport, a Boone County record $9 million jury verdict in a wrongful death case, and a Kendall County record $4.25 million settlement in an auto accident case.
Ms. Salvi is a highly involved member of the Illinois legal community. Currently, she is on the Board of Managers of the Chicago Bar Association, a co-founder and Vice President of the Chicago Committee of the Japanese American Bar Association, a board member of JABA Educational Foundation, a member of the Young Professionals Board of the Chicago Bar Foundation, and the Vice President of the Board of Lawyers Lend-A-Hand to Youth.
Ms. Salvi received her law degree from the University of Notre Dame in 2015. She is fluent in Spanish, Japanese, and French.
For more than 30 years, AABA Chicago has played a pivotal role in encouraging diversity, promoting the area's vibrant legal community, and representing the interests of thousands of community stakeholders.