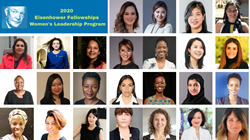 "We're delighted to welcome these dynamic women into our global network of influential leaders," said Eisenhower Fellowships Chairman, Dr. Robert M. Gates. "At a time of great disruption everywhere, they will employ creative new ways to forge lasting ties with other like-minded change agents."
PHILADELPHIA (PRWEB) September 01, 2020
Twenty-five ascendant leaders from two dozen countries and diverse professions have been selected for Eisenhower Fellowships' prestigious 2020 Women's Leadership Program, a five-week exchange that leverages the organization's global network of trailblazing talent to help the Fellows pursue projects that better the world.
The outstanding group of mid-career leaders from across Asia, Europe, Africa and South America includes an Indian wildlife conservationist, a South African data-protection specialist, a French avant-garde sculptor and experts on emerging markets, crime prevention, health care and mining of precious metals.
These dynamic doers share a commitment to gender equality and a deep desire to expand their professional horizons and cultivate a pipeline of women leaders for training and mentorship.
This marks the third time since 2010 that Eisenhower Fellowships (EF) has offered a Women's Leadership Program focused exclusively on connecting and supporting exceptional women to help empower them for the critical role they play in confronting global challenges.
Adapting to the constraints of the Covid-19 pandemic, EF has responded with the innovation long characteristic of the organization. For the first time in its history, EF will host the 2020 Women's Leadership Program as an all-virtual experience, connecting the Fellows online with leading experts in their fields across the U.S. as well as with other Eisenhower Fellows.
EF will employ videoconferencing for synchronous, real-time engagement and will share recorded sessions asynchronously. As in a traditional Eisenhower Fellowship, each Fellow will have daily individual virtual meetings with U.S. thought leaders to emphasize collaboration and expand their professional networks. For the first time this year, since the Covid pandemic struck the United States, more than 3,000 leading experts in diverse fields across the country have reaffirmed their willingness and availability to host and mentor Eisenhower Fellows in person or virtually.
In addition to their predominantly individual meetings with these distinguished EF partners from leading institutions and organizations across the U.S., the Women's Leadership Fellows will meet with some of them as a full cohort in seminar fashion and will convene regularly with each other and with other Eisenhower Fellows.
A highlight of these group sessions will be a "Sounding" that each Fellow will host virtually to share her life story and expertise with her colleagues in the program and facilitate discussion.
Their program will also connect the 2020 Fellows with Eisenhower Fellows from previous Women's Leadership Programs that EF hosted in 2010 and 2015 using face-to-face digital technology. All group sessions will be recorded so that Fellows around the world can watch, regardless of their time zone.
As with all Eisenhower Fellows, those in the 2020 Women's Leadership Program will apply what they learn during their fellowship in concrete projects to better their societies.
Following the women leaders' fellowship experience this fall, EF will physically convene the group and connect them with other Eisenhower Fellows and members of the EF global family at the earliest opportunity, hopefully in Philadelphia in 2021.
"We're delighted to welcome these dynamic women into our global network of influential leaders," said Eisenhower Fellowships Chairman, Dr. Robert M. Gates, former U.S. Secretary of Defense. "At a time of great disruption everywhere, they will employ creative new ways to forge lasting ties with other like-minded change agents to make a positive impact in their countries."
The 2020 Women's Leadership Program officially begins in mid-October with an Opening Seminar scheduled to coincide with Eisenhower Fellowships' Annual Meeting, which the organization will host virtually on October 14 and 15, another first for EF.
"The Covid crisis has driven us to reimagine how we can adapt and advance our important work of enhancing international understanding through direct dialogue even when the pandemic severely restricts physical travel overseas," said EF President George de Lama. "These exceptional women leaders will use new tools to connect across borders and cultures to better their societies."
The 2020 Women's Leadership Program Fellows are:
Cecilia Loccisano | Argentina
Director ∙ EFICCI Consulting
Andreza Gomes | Brazil
Undersecretary for Crime Prevention Policies ∙ Government of Minas Gerais, Secretariat of Justice and Public Security
Cindy Mi | China
Founder & CEO ∙ VIPKid
Olivia Wu | Chinese Taipei
Chairman's Assistant & Board Member ∙ Shin Kong Wu Ho-Su Memorial Hospital
Natalia Bayona | Colombia
Senior Expert on Innovation, Digital Transformation and Investments ∙ United Nations World Tourism Organization (UNWTO)
Nahla Zeitoun | Egypt
Senior Social Project Specialist ∙ World Bank,
Cairo Office
Milène Guermont | France
CEO ∙ Milène Guermont
Krithi Karanth | India
Chief Conservation Scientist & Executive Director ∙ Centre for Wildlife Studies
Dini Indrawati Septiani | Indonesia
Indonesia Director ∙ Asian Venture Philanthropy Network
Sanya Goffe | Jamaica
President & Attorney-at-Law ∙ Pension Industry Association of Jamaica
Hana Hayashi | Japan
Asia Pacific Director ∙ McCann Public Health
Maryana Munyendo | Kenya
Founder & Executive Director ∙ Missing Child Kenya
Thuraya Ismail | Lebanon
Executive Director ∙ Mentor Arabia Foundation
Ellisha Othman | Malaysia
Managing Director & Clinical Psychologist ∙ SOLS Health, Science of Life Studies 247
Adenike Adeyemi | Nigeria
Executive Director ∙ FATE Foundation
Deicy Sánchez | Peru
Social Coordinator ∙ Buenaventura Mining Company
Patience Mutesi | Rwanda
Country Director ∙ TradeMark East Africa (TMEA)
Sandra Uwera | Rwanda
CEO ∙ Comesa Business Council
Hajar AlGosair | Saudi Arabia
Director, Human Capital Advisory ∙ Saudi Information Technology Company (SITE)
Shaza Ishak | Singapore
Managing Director ∙ Teater Ekamatra Ltd.
Nobukhosi Dlamini | South Africa
Founder & Managing Director ∙ Bahati Tech
Hee-Eun Park | South Korea
Partner ∙ Altos Ventures
Miriam Cañas-Cabello | Spain
Digital Manager ∙ Hospital Clinic de Barcelona
Carlotta Saporito | United Kingdom
Investment Director ∙ CDC Group
Lan Dao | Vietnam
Director ∙ Temasek International Pte Ltd
###
Now in its 67th year and named for America's 34th president, EF brings together innovative leaders from across geographies and sectors to tackle big challenges and improve the world. Since 1953, more than 2,400 mid-career leaders from 115 countries have benefitted from the unique, customized experience of an Eisenhower Fellowship.
For more information contact:
Erin Hillman
Vice President, Programs and Operations
Email: ehillman@efworld.org
Phone: 215-546-1738