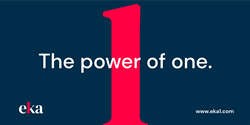 The new logo represents Eka today – one platform enabling digital value chains across agriculture, energy, metals & mining industries. Eka's Cloud Platform hosts powerful solutions for trading & risk management, business collaboration, supply chain & financial management, for better decisions.
NEW YORK (PRWEB) June 15, 2020
Eka Software Solutions today announced the launch of a new corporate identity that matches the company's vision to help clients accelerate digital transformation. Eka's Cloud Platform provides an integrated portfolio of solutions with one data and security model and one version of truth, that enable digital value chains for businesses across agriculture, energy, metals and mining industries, and help them gain tangible value.
Companies are replacing manual and cumbersome processes with modern, more digitally advanced technology. This movement has accelerated recently, as businesses sought to enable their partners and employees remotely. Since its launch, Eka's award-winning Cloud Platform has enabled its customers to benefit from digital technologies with faster and better decisions, reduced implementation times, and the ability to connect systems, data and people with superior business collaboration.
Eka's new identity includes a redesigned logo, color pallet, domain name and web experience and reflects Eka's commitment to enabling digital transformation for commodity management while positioning the company for growth and new markets in a digital era.
Commenting on the brand, Manav Garg, CEO & Founder Eka Software Solutions said, "Eka has evolved over the past 16 years. We want to be more than just the best technology vendor for our customers and partners. We want to be an ally enabling long term success at each step of their digital journey."
The company's new logo represents Eka today – a single platform that enables digital value chains across agriculture, energy, metals and mining industries. The cloud driven platform hosts powerful solutions that deliver tangible business outcomes, faster and better decisions with improved operational efficiency.
"What has not changed, is our long-held customer-centric approach to our business. Behind the new look we are still the same company and team, dedicated to providing the best possible services and solutions," Garg added.
Eka's Cloud Platform provides nimble and powerful applications that address the needs of small and large enterprises alike. The platform's easy integration and flexible configuration help companies bridge critical data from disparate enterprise systems quickly and seamlessly, providing a central repository of data. With a single source of truth, and the ability to view any aspect of the operation instantly, businesses can achieve exceptional speed and the ability to make more informed decisions, faster.
About Eka Software Solutions
Eka Software Solutions is a global leader in providing digital solutions for Trading & Risk, Supply Chain Management and Financial Services driven by Cloud, Blockchain, Machine Learning and Analytics. The company's best-of-breed solutions serve the entire trading value chain across agriculture, energy, metals and mining and manufacturing markets.
Eka's Cloud Platform provides advanced analytics, one source of data and an automation engine, providing maximum flexibility and investment protection as business needs and market requirements change.
Eka is committed to ensuring its 100+ clients can work from anywhere and collaborate across ecosystems within a secure and trusted environment. For more information, visit http://www.eka1.com.