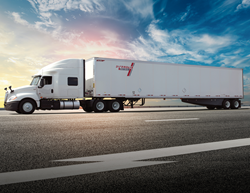 ROCHESTER, N.Y. (PRWEB) October 04, 2018
EkoStinger today announced it has been named the $1 million Grand Prize winner of the 76West 2018 Clean Energy Competition. 76West is an unparalleled competition focused on growing entrepreneurs and attracting resources from the U.S. and around the world to build clean energy businesses and jobs in New York's Southern Tier Region. Rochester-based EkoStinger, which manufactures under-trailer aerodynamic devices for tractor trailers that reduce emissions and save fuel, was one of the six winning companies of the annual clean energy competition.
"We are very humbled and proud of this award," said Steve Smith, Executive Vice President of EkoStinger. Smith went on to say, "This award validates all of the hard work and dedication each and every employee at EkoStinger has put forth. It also validates the decision our customers have made in choosing EkoStinger as their fuel savings product of choice. We look forward to expanding our operation and continuing to focus on manufacturing quality, competitively priced aero products while delivering the highest level of customer service."
A total of $2.5 million was awarded to six innovative companies. Lieutenant Governor Kathy Hochul announced the winners at an award ceremony in downtown Binghamton last week, joined by more than 100 elected officials, entrepreneurs and local business leaders. The event also named a $500,000 winner and four $250,000 winners. The 76West competition is administered by The New York State Energy Research and Development Authority (NYSERDA).
Alicia Barton, President and CEO, NYSERDA said, "The clean energy technologies being developed as a result of these awards will help support New York's thriving clean energy ecosystem. I congratulate EkoStinger for being named the grand prize winner, and look forward seeing their technology in the marketplace helping to reduce harmful greenhouse gas emissions in the transportation sector."
The third round of the 76West competition was launched in December 2017 and received 152 applications from more than a dozen countries and 27 states. Of these, 20 finalists were chosen and participated in a two-day pitch session from July 31 to August 1 at Cornell University. Judges then recommended the top six winners.
As a condition of the award, companies must either move to the Southern Tier or establish a direct connection with the Southern Tier, such as supply chain, job development with Southern Tier companies, or other strategic relationships with Southern Tier entities that stimulate wealth creation and create jobs. If the companies are already in the Southern Tier, they must commit to substantially growing their business and employment in the region.
About EkoStinger:
EkoStinger is a manufacturer of aerodynamic devices for over the road trailers. EkoStinger's most popular system is their patented sliding Stinger and mist reducing mud flaps that produce 6% fuel savings at highway speeds. This system is CARB Compliant and GHG 2 Bin 3 verified. For more information see http://www.ekostinger.com For Media Inquiries, contact: Steve Smith, Executive Vice President, ssmith@ekostinger.com
For more information about this story or to obtain contact information for interview purposes:
Contact Steve Smith, Executive Vice President of EkoStinger
Phone 219.308.6866 or Email: ssmith@ekostinger.com