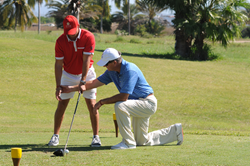 MAZATLAN, MEXICO (PRWEB) September 22, 2015
El Cid Resorts knows that many travelers enjoy unwinding with a leisurely game of golf at their vacation destination. Proudly offering world-class golf opportunities featured in the Mexican PGA and Canadian Tour, El Cid Resorts' Golf and Country Club course is an excellent way for both novice and veteran golfers to tee off and test their skills. With a combination of 27 challenging holes, the golf opportunities in Mazatlán are truly special and some of the best in all of Mexico.
Now, El Cid Resorts is excited to announce that an all new golfing experience has arrived, and it is focused on taking player's golf skills to a whole new level of perfection.
The latest addition to the El Cid Resorts golfing experience is a partnership with the Wright Balance Academy that will teach golfers how to reevaluate their game in order to approach golf with the best skillsets possible. The Wright Balance program is instructed by Dr. David Wright, who was featured by GOLF Magazine to be a Top 100 Instructor in the world, with over twenty-five years of experience to back his teachings. By focusing on establishing core balance, taking advantage of natural power, training both physically and mentally, improvement to the player's short game, and course management coaching, the Golf Academy is a one-stop-shop for travelers who are serious about improving their golfing skills. This highly rated and reviewed academy is really a unique approach to the game of golf and has helped hundreds of weekend golfers and even more experienced players improve their game to the next level.
El Cid Golf & Country Club makes for an excellent course for students just learning the game of golf to truly begin to master the world-famous pastime. As a PGA-rated par 72 course, the golf course at El Cid Golf and Country Club has nine holes directly designed by golfing legend Lee Trevino.
With the Wright Balance Academy, El Cid Resorts is positive that golfers, particularly those new to the sport, will be able to find their strengths, eliminate their weaknesses, and work towards a strong overall improvement to their golf game. With winter fast approaching many golfers in North America watch as their beloved courses close for the season. One of the benefits of course of Mazatlán is the year round weather which stays comfortable and is at its best in the winter months, making it a year round destination for fun in the sun and of course golf!
For more information on El Cid Resorts please visit – http://www.elcidgolfacademy.com or contact us at http://www.elcidgolfclub.com.
###
El Cid Golf & Country Club
Local: (669) 989 6969 ext 3271
International Toll-free: 1 855 855 2222
http://www.elcidgolfclub.com.mx
http://www.elcidgolfclub.com
El Cid Golf Academy
Local: (669) 989 6969
Local Toll-free: 01 800 890 4699
International Toll-free: 1 855 855 2222
http://www.elcidacademiadegolf.com.mx
http://www.elcidgolfacademy.com/