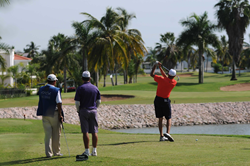 MAZATLAN, MEXICO (PRWEB) September 24, 2015
El Cid Resorts suggests golf enthusiast take note: the 42nd Annual El Cid Golf Tournament is just around the corner. From November 16th through the 22nd, travelers to Mazatlán can partake in the tournament which features prizes valued at over $100,000 USD. From iPads, to trophies, and even automobiles, the rewards for demonstrating world-class golfing skills are there for the taking. It is only a matter of getting there.
Now is the perfect time to plan a trip to El Cid Resorts to enjoy the annual golf tournament. As the cooler months approach, the weather will continue to mellow as the hot summer months make way for the beautifully crisp fall months. This is the absolute perfect weather to enjoy the club's twenty-seven hole, expertly designed golf course. With a PGA par-72 rating, the El Cid Country Club golf course is easily one of the finest in the world.
With courses designed by world-renowned expert golfer, Lee Trevino, golfers from around the world will enjoy the challenging course designs, featuring all the trappings of a top-tier golfing experience.
Since 1973 El Cid Golf & Country Club has hosted the golf tournament, and ushered in many of the world's best golfers to partake in the event. What makes the event perfect for golfers of all skill levels is that because of the tournament's scale, even just spectating the event is a fun-filled and exciting way to spend the day by watching top-tier golfers take their best shot through the course.
Golfing is not the only draw to the region. Known as the Pearl of the Pacific, Mazatlán is truly a treasure to behold, both in its sheer natural beauty and the rich culture that pulsates throughout the region. Visitors to Mazatlán can indulge in some of the finest dining options in the world while enjoying breathtaking views. Then, of course, there is always golfing. As the summer makes way for fall, several seasonal events begin such as the Mazatlan Art walk in the Centro Historico, and several other fun filled fall/winter events.
El Cid Resorts welcomes golfers and their families to the 42nd Annual El Cid Golf Tournament, running throughout the week of November 16th through the 22nd. For further information about El Cid Golf & Country Club visit http://www.elcidgolfclub.com and if you would like to participate in this event please register at http://54s.co/elcid2015. Plan a trip to Mazatlán now to enjoy this wonderful event and partake in the fun!
###
El Cid Golf & Country Club
Local: (669) 989 6969 ext 3271
International Toll-free: 1 855 855 2222
http://www.elcidgolfclub.com.mx
http://www.elcidgolfclub.com
El Cid Golf Academy
Local: (669) 989 6969
Local Toll-free: 01 800 890 4699
International Toll-free: 1 855 855 2222
http://www.elcidacademiadegolf.com.mx
http://www.elcidgolfacademy.com/