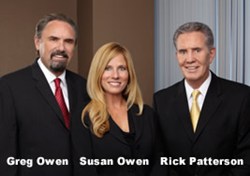 His grieving family are wondering how this could have happened to a hospitalized dementia patient
Los Angeles, CA (PRWEB) July 29, 2013
Prominent personal injury trial attorney Greg Owen of the law firm Owen, Patterson & Owen has been asked to represent the family of a Culver City man whose body was found on Dockweiler State Beach last month.
Owen says that Jose Muniz, the deceased, had been checked into Brotman Medical Center where he was being treated for dementia. According to court documents (Muniz, et al. v. ALTA Hospitals System, LLC, et al., Los Angeles Superior Court Central District Case # BC515746) Muniz went missing on June 10, 2013 and his body was found the next day.
According to a July 15, 2013 KABC-TV news story Jose Muniz had been a husband for 67 years, a father of five, grandfather of 10 and great-grandfather of 20.
"His grieving family are wondering how this could have happened to a hospitalized dementia patient," says elder neglect attorney Owen. Questions left unanswered in this tragedy include the alleged degree to which negligence on the part of Brotman Medical Center played in Mr. Muniz's untimely death.
As documented in the news story, Muniz's daughter-in-law Carmen Angulo said hospital staff had informed the family that Muniz was being kept in a "patient overflow area" at the time of his disappearance.
After his disappearance the panicked Muniz family spent many of the intervening hours frantically posting missing person flyers throughout the city before learning of their relative's death.
About Owen, Patterson & Owen
Owen, Patterson & Owen represents injured plaintiffs in elder abuse, truck, motorcycle and auto accident, and severe injury cases. Their effective consumer advocacy and demonstrated ability to devote superior resources have generated hundreds of millions of dollars in recoveries for clients.
Owen, Patterson & Owen can be reached through their firm's website at http://www.opolaw.com or by phoning (800) 676-5295.