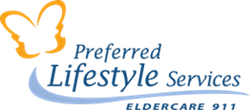 If you think about it from Mom's perspective...She's absolutely right.
Judie Rappaport
West Palm Beach, FL (PRWEB) August 13, 2013
When the phone rings at Preferred Lifestyle Services (PLS), the team of eldercare professionals knows what to expect. The individuals and circumstances may be unique, but the stories almost always have one similarity: elder parents refuse to accept help. "Mom tells me she doesn't need help." "Dad can't take care of himself any longer, but he won't let me – or anyone – help out."
PLS President and founder, Judie Rappaport has heard the same story told a thousand different ways. And it always ends the same: "Why won't he/she let me help?"
"Perhaps the answer lies within a greater understanding of our elder parents." suggests Judie.
Senior parents rarely deceive out of malice or to cause anxiety or pain. Most elders learned self-reliance as children. Many helped support their families at an early age; some faced anger or shame if they complained about weakness. Not only was it unheard of to leave work for a doctor's appointment, but treatment was so limited that most people never went to doctors except for life-threatening events.
"As caregivers, we might be more successful at keeping elder parents safe if we first question ourselves. Start by asking yourself this question." Judie prompts. "Why should your parent accept your help?"
Aging often signifies a loss of independence and lifelong status as head of the family. Proud, self-reliant, elders feel as though they have become burdens on their families.
"If you think about it from Mom's perspective, her reluctance is natural. Behind every 'I can handle it' is a fervent desire to remain in control and a realistic fear that if you know something is wrong, you'll feel obligated to solve the problem and your solution will change her life forever – not necessarily to her liking. She's absolutely right."
Gently discussing issues and involving the senior parent in the decision-making process can help ease all parties into small changes taken very slowly. Judie recommends asking, "How have I assured my parent I will respect his/her independence and dignity and do everything I can to help maintain both?"
"You may feel you know your parent's specific needs as well as likes and dislikes. But educating yourself about Mom or Dad's overall health and any illness is crucial to maintaining the highest quality of life."
With studies showing more and more adult children becoming caregivers for their parents, and approximately 1/3 of Americans reporting themselves as caregivers of any kind, eldercare education can and should be a great advantage to the caregiver and a comfort to the senior.
While wondering why a senior parent refuses help can be overwhelming, learning how to see it from the parent's perspective can be liberating. "Resist the urge to 'take over'. Try partial intervention." Advises Judie, "Temper all things with love and patience. Remember, this is a life-altering step for both of you."
Judie Rappaport is the President of Preferred Lifestyle Services, which provides personalized services specializing in care for families with Alzheimer's and related dementias. She writes a blog as well as a question and answer forum for Alzheimer's disease and related dementias. The websites listed below provide links to vital information, programs, and organizations. Judie is the co-author of the well-received books, Eldercare 911: The Caregivers Complete Handbook for Making Decisions and The Eldercare 911 Question and Answer Book. Judie also writes, Eldercare 911, a weekly column answering readers' caregiving questions. The successful column is in it's 7th year in Florida's Scripps Treasure Coast Newspapers.
For more information on eldercare specializing in the care of those with Alzheimer's disease and related dementias, contact Judie Rappaport at JR(at)prefsvcs(dot)com or phone 561-277-9544 Judie's blogs and articles may also be sourced at http://www.dementiaexpert.com and http://www.preferredlifestyleservices.com.