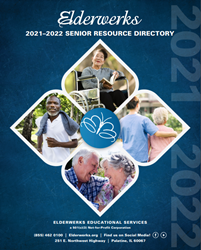 "It's very exciting and nice to know that we can reduce frustration and leg work in finding the information people are looking for and being able to provide them with those resources and the guidance necessary to make an informed decision."
PALATINE, Ill. (PRWEB) December 01, 2022
Since 2012, the Palatine, Illinois-based nonprofit Elderwerks has been helping Chicagoland caregivers find the best solutions to help their elderly loved ones live meaningful and active lives by providing complimentary information, referrals and guidance for all types of senior housing, care, and services.
Instead of spending hours searching online to learn about additional resources available in Illinois, the nonprofit has created a fully comprehensive 400-page physical and electronic book called The Elderwerks Senior Resource Directory. The Directory provides answers to a myriad of questions on caregivers' minds. In the spring of 2023, Elderwerks will roll out the 2023-2024 Directory that will be available in print online, and free of charge to the public. The current version is available by visiting Elderwerks' office or visiting https://www.elderwerks.org/directory/index.html.
Thanks to generous support from The Foglia Family Foundation and advertisers, this book includes information about support groups, transportation options, legal, in-home care services, and much more. Some sections address care management, Medicare/Medicaid, utilities, various government programs, informative websites, housing options, end of life services, and other local benefits.
"I'm proud to present this Directory as an accessible and valuable reference to our clients," said Elderwerks President Jennifer Prell. "There's no guessing or searching through a phone book or using search engines. Everything is right there. If people need more direct help, Elderwerks advisors will personally assist anyone who contacts us."
Prell and her team of senior advisors field many inquiries from concerned residents seeking compassionate and helpful advice. Questions range from adult children asking how to help their parents find the best housing solution, to where seniors can join local groups for activities. Reassuring people with good information is just part of the job.
"Every year, we estimate that we receive over 15,000 calls," Prell said, "Many of the questions vary from person to person. Typically, these callers look for someone to point them in the right direction of where to go or who to contact to help themselves, a loved one, or a neighbor."
Some of the common subjects people ask about are finding reputable elder law attorneys, dependable transportation services, and lending closets. The latter is a program allowing people to borrow durable medical equipment (canes, walkers, wheelchairs) at no or low cost. Different organizations offer these closets as services.
"Many individuals who call us are looking to generously donate their durable medical equipment to a place where they know it will go to someone that can use it," Prell said. "Others are looking for the equipment for either themselves or a loved one who can use it to live more comfortably or recover after a surgery."
Knowing that Elderwerks can be an organization people can turn to brings good feelings to Prell.
"It's very exciting and nice to know that we can reduce frustration and leg work in finding the information people are looking for and being able to provide them with those resources and the guidance necessary to make an informed decision," she said. "If we don't have the answer to the question presented, we will reach out to our network and provide callers with the appropriate resources or guidance they need."
About Elderwerks:
Based in Palatine, Elderwerks, a not-for-profit 501(c)3 organization, has helped thousands of older adults and seniors age well. Elderwerks offers complimentary, information, referrals and guidance for all types of senior living, home care, support services, and benefits based on you or your loved ones needs. Acting as "senior guidance advisors," we help find the right solutions for you or your loved one. Whether it's assisted living, memory care, a referral for an elder law attorney, veterans benefit specialist, or to transition to any other type of senior care, Elderwerks simplifies the process of navigating senior living options and supportive services. We can offer you support in a very short period of time. Don't let the future overwhelm you, call Elderwerks first: 855-462-0100. For more information, visit Elderwerks' website. ###