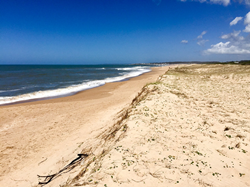 "Think about a three-month escape or a year-long getaway. Come at this idea with a 'one-step-at-a-time' attitude and it's likely to be easier and more enjoyable."
BALTIMORE (PRWEB) October 20, 2020
"In the runup to the U.S. presidential election, we're seeing Internet search traffic surge around the idea of moving out of the U.S.," says Jennifer Stevens, Executive Editor, International Living. "With international travel restricted at the moment, folks interested in relocating can use this time at home wisely to not only research their best options for where to go abroad—but also to simply get prepared for a move," says Jennifer Stevens, Executive Editor, International Living.
"Creating connections to where you want to live is something you can start doing before you ever leave. You can connect online in Facebook groups, for instance. You can start to learn the local language. These are smart ways to lay the groundwork for a smooth transition, and we've itemized the steps to take in our report," Stevens says.
"Trying to sort out what needs to happen for a 'forever move' can be incredibly intimidating. No doubt, plenty of potential expats have walked up to their attics, taken one look at everything that needs going through, turned around, and decided to just stay home.
"So it's important to realize that there's an easier way. Consider making a move in smaller steps. Think about a three-month escape or a year-long getaway. Come at this idea with a 'one-step-at-a-time' attitude and it's likely to be easier and more enjoyable."
International Living's report "Three Things You Can Do Right Now If You Are Considering a Move Abroad" details three useful steps potential expats can take today to prepare for the possibility of a big move in the future.
1. Engage a Native Online Language Tutor
"I hired an online language tutor one year before I moved to Greece, and it was tremendously helpful," says expat Lynn Roulo. "My Greek tutor lived in Athens, and we did language lessons via Skype while I was still living in San Francisco. The lessons were inexpensive, and my tutor, Rania, gave me advice on neighborhoods to explore, insights about the Greek economy, and even helped me find my first apartment to rent when I did eventually move. Having a local, friendly contact who is interested in your success is extremely helpful during your move to a new country."
There are many helpful websites like http://www.italki.com or try a free language exchange through portals like http://www.mylanguageexchange.com. Expats recommend finding a tutor who shares some basic interests, or post a question to an online expat group for your target area and see who the local expats recommend for online tutoring.
2. Join Online Social Networking Groups Based in the New Location
Most people who move abroad need to make new friends and develop a social network. The good news is potential expats can start that process now.
"I joined several Facebook groups including 'Expats Living in Athens,' and 'Foreign Girls Living in Athens' to help start my new chapter," Roulo recommends. "In these groups, you can pose questions, follow conversation threads, and get a general sense of community. And you don't need to limit it to expat groups. You can find local groups in your new town or city that match your interest in things like hiking, painting, or whatever it is you are passionate about."
Meetup is another great resource where you can see posted events you will be able to attend when you move, according to International Living's report. Meetup is an events portal that was formed by a group of friends in New York after the September 11, 2001, terrorist attacks. These friends noticed they felt better when they would "meet up" and started to organize around the idea. Now Meetup is a worldwide site offering activities to locals and newcomers alike. While it may not be possible to attend events in person at the moment, it is a good time to start making connections. These groups also can serve as a basis for a social life in your first weeks in a new place.
3. Research and Plan Reconnaissance Trips
Though folks may not be able to right travel now, it's a great time to plan a trip for when travel opens up again. For those serious about a move abroad, International Living recommends planning a trip that lasts at least three or four weeks. If possible, go two or three times for several weeks at a time to live in the area in different seasons. It's a great way to do research and begin looking at neighborhoods to explore, road trips to take, even restaurants to eat at. Planning is fun and with all the online resources available, a tremendous amount of legwork can be done before flights are even booked.
"Equally important is to figure out how you will leave your home during these reconnaissance trips," says Roulo. "If you have pets or plants, you can consider housesitters through sites like TrustedHousesitters.com. If you worry about missing mail, you can set up services like Earthclassmail.com. And if you wonder how you will communicate while abroad, you can set up international telephone numbers via Skype or install free mobile phone applications like WhatsApp or Viber. Start getting these pieces in place so when you go on your research trips, you are prepared."
More information on International Living's Election Escape Plan, including "Three Things You Can Do Right Now If You Are Considering a Move Abroad," can be found, here: Three Things You Can Do Right Now If You Are Considering a Move Abroad
Editor's Note: Members of the media have permission to republish the article linked above once credit is given to Internationalliving.com
Further information, as well as interviews with expert authors for radio, TV or print, is available on request. Photos are also available.
For information about InternationalLiving.com content republishing, source material or to book an interview with one of our experts, contact PR Managing Editor, Marita Kelly, +001 667 312 3532, mkelly@internationalliving.com
Instagram: https://www.instagram.com/internationalliving/
Twitter: @inliving — https://twitter.com/inliving?lang=en
Facebook: https://www.facebook.com/International.Living/
About International Living
Since 1979, InternationalLiving.com has been the leading authority for anyone looking for global retirement or relocation opportunities. Through its monthly magazine and related e-letters, extensive website, podcasts, online bookstore, and events held around the world, InternationalLiving.com provides information and services to help its readers live better, travel farther, have more fun, save more money, and find better business opportunities when they expand their world beyond their own shores. InternationalLiving.com has more than 200 contributors traveling the globe, investigating the best opportunities for travel, retirement, real estate, and investment.