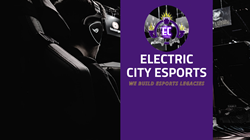 This partnership with DreamSeat will allow schools to deal directly with and purchase from DreamSeat, providing schools a discount rate from a trusted partner as they implement their esports teams.
HAUPPAUGE, N.Y. (PRWEB) May 18, 2021
Electric City Esports, LLC is proud to announce a marketing partnership with DreamSeat, LLC, naming the seating and furniture company the preferred gaming chair & furniture choice of Electric City Esports. Based in Hauppauge, New York, DreamSeat manufactures high-quality furniture with their patented, interchangeable logo system. DreamSeat's XZipit system provides Electric City Esports and its clients' cutting-edge gaming furniture - giving users the option to change the logo in seconds without replacing or purchasing another piece of furniture and demonstrating DreamSeat's innovative products to meet any user's needs.
"Our new partnership with DreamSeat will allow us to provide our clients, primarily schools, a new, innovative gaming chair for students to enjoy. We want our clients to get the most from their investment into esports, to feel they are using nothing but the best in terms of equipment and furniture. As far as we are concerned, DreamSeat provides a sleek, comfortable and innovative product sure to impress anyone," said Electric City Esports Co-Founder/Owner Chris Davis. "A huge selling point for us when speaking with clients about DreamSeat's products is its production process, which occurs in the United States. When you purchase a DreamSeat product, you support an American company and get a much faster turnaround for delivery."
One of Electric City Esports' main pillars of business, Esports Consultation, helps schools implement esports teams & programs through its consultation services. Electric City Esports guides schools through setting up esports teams & programs, providing equipment guidance and helping with IT solutions and facility design & creation through its various partners. This partnership with DreamSeat will allow schools to deal directly with and purchase from DreamSeat, providing schools a discount rate from a trusted partner as they implement their esports teams.
"We are thrilled to have this opportunity with DreamSeat. They've proven themselves to be a reliable and quality furniture company, and now our clients can get the same high-end furniture trusted by arenas around the nation," said Matt Giombetti, Co-Founder/Owner of Electric City Esports. "Having this direct line to DreamSeat is one less factor to worry about when establishing an esports team, and we are confident this partnership will help clients feel they are getting the most out of their investment."
"Partnering with Electric City Esports was a no brainer for DreamSeat. Working with Chris and Matt, it became clear to us very early on that not only did they have a pulse on the high school esports world, but they knew in order for people to build their own esports legacy, they needed the very best resources and equipment, including top of the line gaming chairs and desks," said David Shickler, Sales Director of Dreamseat. "The Esports community is a vast ecosystem, and as it continues to grow and reach new audiences, DreamSeat looks forward to supporting Electric City Esports as they create change in local communities through events, tournaments and school based esports programs."
Electric City Esports is excited to use its partnership with DreamSeat to affect positive change in multiple areas of its business. Through its Esports Consultation, Electric City Esports can help a school find the right fit of a chair for its student gamers. Through its Esports Events, it can provide tournament participants a great chair to compete in and allow sponsors to showcase their brand with DreamSeat's XZipit embroidered logo panels. Electric City Esports is positive this partnership will help it provide another avenue to help grow esports in its native region of operation and beyond.
About Electric City Esports
Electric City Esports is the only marketing & consulting esports agency located near Scranton, "The Electric City", Pennsylvania. Electric City Esports creates leaders of esports through its three primary areas of business; Esports Consultation - helping schools implement esports teams & facilities, Video Game Streamer Marketing Services - guiding small streamers through the streaming process, & Esports Events - creating change in local communities running regular esports tournaments. Esports is an industry that anyone, regardless of age or background, can participate in and benefit from, and Electric City Esports wants to see people build their own esports legacy. To learn more about Electric City Esports, visit https://www.electriccityesports.com or find them on all major social media platforms.
About DreamSeat
DreamSeat's patented line of XZipit furnishings offer an innovative, high quality, interchangeable logo system that is used throughout its entire product line. DreamSeat specializes in commercial grade furnishings for professional sports teams, universities, firehouses, high schools and corporations. Known for elevating the fan experience, DreamSeat creates custom, premium, VIP and general seating to fit the specific needs of the client, application and venue. Noteworthy clients include Caps Gaming, Magic Gaming, UGL League, Fan Controlled Football, HyperX Arena/Allied Sports, ECAC, Dallas Mavs NBA 2K team, Miami Open, Cincinnati Reds Premium Diamond Club Seating, Philadelphia Eagles Field Seats, San Diego Padres Suites, Denver Broncos team and film rooms, Texas Rangers facilities, Live Nation Venues nationwide and many more. DreamSeat's affiliate companies, Zipchair and Zipchair Gaming, are online retailers that allows the consumer to purchase the same furniture used by their favorite professionals. Dreamseat, headquartered in Commack, NY, is a family-run business. For more information, visit http://www.dreamseat.com or follow @dreamseat on Twitter and Instagram.