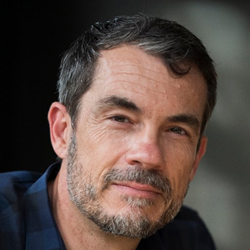 Electriphi's solutions help the transition and operational management as fleet managers look to electrification.
SAN FRANCISCO (PRWEB) July 02, 2019
With fleet electrification moving from concept to deployment, Electriphi's fleet and energy management solutions are helping commercial fleets ease into this transition. The company has been chosen to showcase its solutions at this year's Commercial Vehicle Cleantech Challenge (CVCC) hosted in Denver, CO. The highly competitive process selects top finalists from a range of technology companies across the US and Canada.
The challenge is managed by Colorado Cleantech Industries Association and North American Council for Freight Efficiency (NACFE) in partnership with an internationally recognized team of industry leaders including Great Dane, UPS, Schneider Trucks, Kenworth, Xcel, Woodward, Toyota, Clean Cities, Rocky Mountain Institute, CALSTART and NREL.
Electriphi also announces industry leader Arno Harris is joining its advisory board. Harris brings over 25 years of experience in high tech and clean energy to the team, and will help accelerate the company's strategy and scale.
"The transition to electric fleets is inevitable, however there are many hurdles to overcome as the entire value chain is being disrupted," said Harris. "Electriphi's solutions help the transition and operational management as fleet managers look to electrification. I'm thrilled to be a part of this journey with Electriphi as they scale their solution set to a broad range of partner and customer segments."
"We're incredibly excited to have Arno join the team as an advisor and mentor," said Muffi Ghadiali, Co-founder and CEO of Electriphi. "His leadership, knowledge and insights in clean energy, electric mobility and scaling technology businesses will provide us with the right momentum as we enter our next phase of growth."
Electriphi provides a charging and operations management platform that saves energy costs and simplifies the transition to electric vehicle fleets. Upfront planning and smart energy management is very important for large scale vehicle electrification. To help with the transition, Electriphi recently released a free Fleet Planning Tool to demonstrate the impact of fleet electrification for customer's operational, fueling and capital costs. The tool runs analysis based on unique characteristics of each fleet and runs thousands of simulations to provide a customized report.
About the Company
Electriphi, Inc. is based in San Francisco CA, with offices in San Jose and Bengaluru India. The leadership team (ex-Amazon, Tibco, ChargePoint, Versata, Sybase) brings deep industry expertise in EV charging infrastructure, grid-scale computing, enterprise data, Internet of Things (IoT), machine learning and artificial intelligence (AI).
Arno Harris
Mr Harris spent the last 25 years starting and growing successful businesses in high tech, clean energy and electric mobility. He now helps startups and growth companies to raise capital and achieve scale. Mr Harris previously founded Recurrent Energy, one of North America's largest solar project developers. He grew the company to $1.4B in GAAP revenue, raising over $400M of corporate financing and over $4B of project finance during his tenure as CEO.
Muffi Ghadiali
Mr. Ghadiali is Founder and CEO of Electriphi, Inc a developer of EV fleet and energy management solutions. In his prior role, Mr. Ghadiali was Senior Director at ChargePoint and led product management for hardware and software for DC Fast Charging Solutions, focusing on high-speed DC charging infrastructure design and deployment. Mr. Ghadiali is an experienced product management leader, with previous roles at Amazon, OUYA, HP, and Synaptics. He is an adjunct lecturer at Stanford CSU and has received an MPhil in computer engineering.