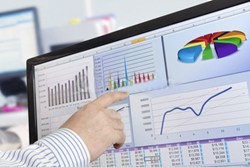 The web-based In Touch EMR can be accessed from any location. It meets certification qualifications and ensures therapy owners remain in compliance.
Denville, NJ (PRWEB) August 10, 2013
"Electronic medical records are economical, environmentally friendly and integrate easily with other office systems for increased efficiency and profitability," said Chhoda.
An EMR generates more funds for the practice by reducing billing and coding errors, paybacks, and rejections. Billing is submitted securely online for a quicker turnaround on reimbursements and better cash flow. This software will significantly change the way therapists operate their practice through automation of tasks that were once labor intensive.
The good news is that therapists don't have to break the bank to implement an occupational therapy software system. The In Touch EMR by Nitin Chhoda and wife inventor Ritika Gulrajani PT, DPT, offers a no-cost way for therapists to transition to an electronic system. The web-based In Touch EMR can be accessed from any location. It meets certification qualifications and ensures therapy owners remain in compliance.
Another essential tool that EMRs deliver are adequate marketing endeavors which provide analytics that allow therapists to monitor and track marketing efforts, determine what methods are most effective and locate areas that require greater focus. Data are easily available for examination and provide a clear picture of where referrals are originating.
EMRs also offer the means for therapists to schedule staff more efficiently for the greater good of the clinic. Services and staff can be deployed for greater efficiency during peak and popular hours, allowing clinics to treat more patients. Clients can interact with the clinic through patient portals where they can request information, complete forms, obtain test results and arrange appointments.
Chhoda added that physical therapy software is changing the way therapists interact with patients and operate their clinics. His insights provide powerful information that therapists can utilize to put them on the road to a complete physical therapy management system. EMRs contain enormous potential for the future, with the ability to transform any practice into a business that's flourishing financially.
Chhoda's office can be reached by phone at 201-535-4475. For more information, visit the website at http://www.emrnews.com.
About Nitin Chhoda
Nitin Chhoda PT, DPT is a licensed physical therapist, a certified strength and conditioning specialist and an entrepreneur. He is the author of "Physical Therapy Marketing For The New Economy" and "Marketing for Physical Therapy Clinics" and is a prolific speaker, writer and creator of products and systems to streamline medical billing and coding, electronic medical records, health care practice management and marketing to increase referrals. He has been featured in numerous industry magazines, major radio and broadcast media, and is the founder of Referral Ignition training systems and the annual Private Practice Summit. Chhoda speaks extensively throughout the U.S., Canada and Asia. He is also the creator of the Therapy Newsletter and Clinical Contact, both web-based services to help private practices improve communication with patients, delivery better quality of care and boost patient retention.