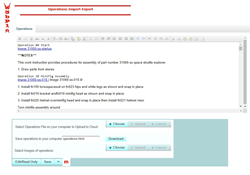 LAS VEGAS (PRWEB) July 22, 2019
Announcing a public cloud based service for creating process work instructions.
This product is the fourth generation release of Microneering Electronic Work Instructions.
Connect today to create and use their own EWIs. Add quality and productivity in the manufacturing cycle.
Attached PDF shows a complex multiple page with intricate equations and calculations for jet engine assembly data values. All information entered can be stored as partially completed assembly, then loaded and completed later by another user in another part of the process.
This page was designed on line with the EWI authoring tools on the cloud.
No database setup is required, as all configuration and user data is automatically stored on the cloud with no database configuration.
Microneering provides dedicated EWI authoring services. We will create EWI's from scratch to meet FAA and MIL-STD requirements. Microneering can host EWI on your in-house servers.