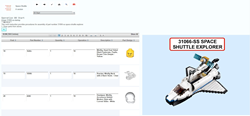 LAS VEGAS (PRWEB) April 13, 2020
Microneering provides unlimited usage of Electronic Work Instructions for government base
U. S. Air Force Support for the C-130 Hercules transport aircraft using Microneering EWI.
U. S. Air Force F15 Support Extension to support F-15.
Installed on every F-15 worldwide, the Secondary Power Systems(SPS) provides two main functions: power for engine starting and power to aircraft accessories once the engines are self-sustaining. The SPS consists of the Jet Fuel Starter (JFS), two hydraulic accumulators, a central gearbox (CGB) and left/right Airframe Mounted Accessory Drives (AMADs).
Microneering created manufacturing content by video filming C-130 and F-15 Air Craft Components in disassembly and assembly using our proprietary method of converting real time shop floor procedures into cloud web content.
Sample Build Instructions for Space Shuttle
Sample Build Cloud Data Collection
Now for the first time, any size firm can create Electronic Work Instructions and process data collection in real time in the cloud for free. This enables very small companies free access, or larger companies a free on ramp to try cloud work instructions.
This cloud technology is key to improving productivity: increase quality; rapid employee training; fast transfer of product changes to product production; reduced costs.
For More Information
About Microneering
Founded in 1973, Microneering provides mission-critical manufacturing software solutions for Fortune 500 companies. The company's electronic work instruction products are cost-effective solutions for automating manufacturing documentation.
Microneering is the source of the information provided in this news release.