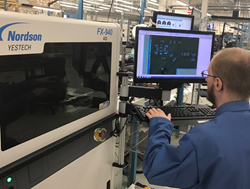 This additional capability will allow us to provide our customers with complex PCBAs with an additional layer of inspection superior to the industry 2D standard AOI.
Melbourne, Florida (PRWEB) March 21, 2017
MC Assembly, a leading mid-tier electronics manufacturing services provider, recently enhanced its inspection capabilities by purchasing and installing a Nordson YESTECH FX940 ULTRA 3D Automated Optical Inspection (AOI) machine. This new equipment upgrade allows 3D inspection of printed circuit board assemblies (PCBAs) for quality control during surface mount technology (SMT) operations.
This investment in SMT inline 3D AOI capability is the first step in incorporating 3D inspection capabilities as part of MC Assembly's standard service offerings. Previously MC Assembly offered 3D AOI inspection off-line and as an optional service. This new change of incorporating the 3D AOI inline demonstrates MC Assembly's continues commitment to optimizing quality control and inspection capabilities. MC Assembly plans to upgrade the inspection to 3D AOI machines on all SMT lines in the near future.
"By partnering with top market leaders like YESTECH, MC Assembly is making major improvements in early detection and process control capabilities," said MC Assembly's Chief Operations Officer Luis Ramirez. "This additional capability will allow us to provide our customers with complex PCBAs with an additional layer of inspection superior to the industry 2D standard AOI."
Nordson YESTECH is a leading supplier of automated optical and conformal coat inspection systems for the electronics manufacturing industry. MC Assembly currently uses over 22 YESTECH AOI systems and one X-3 X-ray machine.
With the new FX-940 AOI machine, MC Assembly can provide its customers with cutting-edge 3D technology for the inspection of solder defects, lead defects/lifted leads, component presence and co-planarity of chips, BGAs and other height sensitive devices.
The new machine features Advanced Fusion Lighting and comprehensive inspection tools including angled cameras, full-color digital image processing and both image and rule-based algorithms. The FX-940 ULTRA offers complete inspection coverage with unsurpassed 2D and 3D defect detection. The FX-940 ULTRA provides high-powered inspection with:

12 MP / 5 axis 3D NYTVISION Technology
Complete 2D + 3D inspection capabilities
One top-down and four side-viewing cameras
Automatic programming tools: < 30 minutes
High defect coverage / low false failures
SPC data collection and reporting
For more information about MC Assembly, please visit http://www.mcati.com.
About MC Assembly
MC Assembly (http://www.mcati.com), based in Melbourne, Fla., with additional operations in Billerica, Mass., and Zacatecas, Mexico, is a national leader in the contract manufacturing arena with annual revenues of approximately $200 million. It provides turnkey solutions to original equipment manufacturers and focuses on assembly of medium volume, medium mix printed circuit boards assemblies (PCBAs) and box builds. MC Assembly's capabilities include surface mount and pin-through-hole interconnection technologies, PCB and box build, DFM, DFT, DFA engineering, in-circuit, functional and environmental testing, and full box-build direct order fulfillment.
About Nordson YESTECH
Headquartered in Carlsbad, California, Nordson YESTECH is a leading provider of automated optical inspection systems with integrated yield enhancement solutions for the printed circuit board assembly and advanced semiconductor-packaging industries, Nordson YESTECH is operated and managed by a team of industry experts with a history of success, bringing powerful and cost-effective inspection to the electronics market. The company has sales offices and customer support centers in North America, Asia and Europe. For more information on Nordson YESTECH and its products, visit http://www.nordsonyestech.com.
About Nordson Corporation
Nordson Corporation engineers, manufactures and markets differentiated products and systems used for the precision dispensing and processing of adhesives, coatings, polymers and plastics, sealants, biomaterials and other materials and for fluid management, test and inspection, UV curing and plasma surface treatment, all supported by application expertise and direct global sales and service. Nordson serves a wide variety of consumer non-durable, durable and technology end markets including packaging, nonwovens, electronics, medical, appliances, energy, transportation, construction, and general product assembly and finishing. Founded in 1954 and headquartered in Westlake, Ohio, the company has operations and support offices in more than 30 countries. Visit Nordson on the web at http://www.nordson.com, http://www.twitter.com/Nordson_Corp or http://www.facebook.com/nordson.