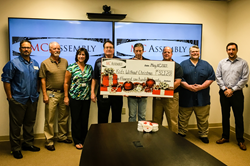 Melbourne, Florida (PRWEB) May 17, 2017
MC Assembly, a leading mid-tier electronics manufacturing services provider, recently marked a major charitable milestone at its 16th Annual Charity Golf Invitational at Duran Golf Club, where the Melbourne manufacturer's latest charitable contribution pushed its lifetime total to more than $275,000. The benefactors - local Brevard County children.
Approximately 170 golfers, contributors and volunteers turned out to participate in this year's tournament, which benefitted Kids Without Christmas, a local non-profit organization composed of volunteers who purchase, wrap and distribute gifts to hundreds of children in the Palm Bay/Melbourne area each holiday season.
While everyone competed to win, the real winners were the children of Brevard County, according to MC Assembly CEO George Moore.
"It's always great to see the wonderful outpouring of support from all the participants who turn out each year to make a difference for our local youth," Moore said. "And that's what it's really about – helping people in in need. In this case, we're able to assist Kids Without Christmas in brightening the holiday season for some of Brevard County's underprivileged children."
Mike Kelly, founder of Kids Without Christmas, said the support MC Assembly has provided over the years has given his organization the opportunity to expand its reach with local families.
"They've been our No. 1 contributor and the difference they've helped us make has been tremendous," Kelly said. "They've afforded us the opportunity to give some of Brevard County's most deserving kids a reason to look forward to the holiday season.
The annual golf tourney is just one of many charitable initiatives the company takes on each year, Moore said.
"In the end, it's about helping those who need the help the most," he said. "In our own small way, we're working to create a better community and a brighter future for Brevard County."
For more information about MC Assembly, please visit http://www.mcati.com.
About MC Assembly
MC Assembly (http://www.mcati.com), based in Melbourne, Fla., with additional operations in Billerica, Mass., and Zacatecas, Mexico, is a national leader in the contract manufacturing arena with annual revenues of approximately $200 million. It provides turnkey solutions to original equipment manufacturers and focuses on assembly of medium volume, medium mix printed circuit boards assemblies (PCBAs) and box builds. MC Assembly's capabilities include surface mount and pin-through-hole interconnection technologies, PCB and box build, DFM, DFT, DFA engineering, in-circuit, functional and environmental testing, and full box-build direct order fulfillment.