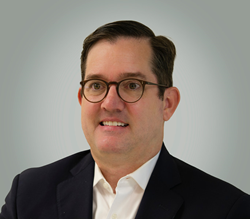 RESTON, Va. (PRWEB) October 06, 2020
Electrosoft, a leading provider of technology-based solutions and services to the federal government, announced today the appointment of Justin Lapington as Vice President, Finance.
Lapington brings more than 25 years finance experience, most recently serving nearly 15 years in financial leadership roles with government contractor Preferred System Solutions, where he oversaw financial operations for the firm's services to government clients, accounting for more than $150 million in annual revenue.
In his new position, Lapington will manage Electrosoft's finance, accounting and contracting operations and report to Electrosoft CEO Sarbari Gupta. "I've built my career focused on serving government customers and the opportunity to join Electrosoft at such an exciting point in its growth is a great honor," said Lapington, who holds a degree in accounting from Centenary College of Louisiana.
"Justin brings a depth and breadth of experience not only in finance, but specifically in government contracting, that we believe will be of great value to Electrosoft and the customers we serve," Electrosoft CEO Sarbari Gupta said.
About Electrosoft
Electrosoft delivers a diversified set of technology-based solutions and services differentiated by thought leadership and innovation. Fueling the success of our Government customers since 2001, we couple our domain knowledge and experience with proven, mature, management practices to deliver the right solutions on time and within budget. These practices include an ISO 9001:2015 registered Quality Management System (QMS) and Capability Maturity Model Integration CMMI) Level 3 assessed processes. Headquartered in Reston, Virginia, Electrosoft is an 8(a) certified Small Disadvantaged Business (SDB) and an Economically Disadvantaged Woman-Owned Small Business (EDWOSB). For more information about Electrosoft, visit our website at http://www.electrosoft-inc.com.