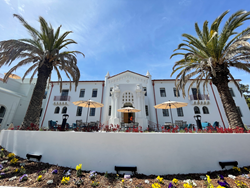 NOVATO, Calif. (PRWEB) May 25, 2021
Elegance Living, a senior living provider, announced the opening of Elegance Hamilton Hill, a relaxed luxury assisted living and memory support community repurposed from the iconic landmark, Hamilton Field Hospital. The new community, located at 1 Hamilton Hill Drive in Novato, California, recently hosted a ribbon cutting ceremony with local dignitaries, and donated $5,000 to the Novato Historical Guild to help collect and preserve exhibits and information related to the history of Novato. The community is set to welcome residents in late May.
"We're excited to bring Elegance Hamilton Hill to families looking for exceptional care and access to the beautiful preserves, museums, and rich heritage of the area," said Elegance Hamilton Hill Executive Director Jose Acumabig.
Elegance Hamilton Hill is a joint project by Avesta Development Group, a local real estate investment and development firm, and Capital Health Group, a private equity company,
to bring high quality and fully amenitized senior living options to families in the Bay Area.
"Restoring an iconic Spanish revival landmark into a vibrant community that will serve and be useful to Marin seniors and their families has been an especially rewarding project," said Mohammad Javanbakht, Managing Partner, Avesta Development Group.
The four-story Elegance Hamilton Hill has been thoroughly modernized with a comprehensive redesign and will offer 80 apartments available in studio, one-bedroom and two-bedroom floor plans with balcony and terrace options. Residents will be able to select from 40 assisted living and 40 memory support apartment options, with a starting price of $6,895.
The boutique community, which overlooks the Hamilton amphitheater and offers 270-degree views of the Bay, will offer a wide-range of amenities including a full-service restaurant and bistro, rooftop lounge, on-site physical therapy, continual learning classroom, salon and spa as well as many beautiful outdoor patios. In-room amenities include spacious floor plans, many with arched windows, cherry wood cabinetry and stainless steel appliances.
Residents will have access to Elegance's engagement program offerings designed to keep residents safe, connected, and socially engaged. Residents in the community's memory support neighborhood will benefit from strong staff-resident relationships and an individualized approach to service and care with a focus on sensory therapy and engagement.
The community is ideally located on the Hamilton Fields campus, just minutes from downtown Novato and near the MOCA museum, Indian Valley Open Space Preserve and the Novato Hamilton SMART station for easy access to programs and events.
About Elegance Living
Elegance Living is a senior living management services company headquartered in Baltimore, Maryland. The company operates 42 communities across the U.S., serving more than 3,000 residents. In addition to Elegance Hamilton Hill, Elegance Living operates Elegance at Dublin and will open Elegance Berkeley in 2022. For more information visit http://www.elegance-living.com. For career opportunities visit http://www.elegance-living.com/careers.
###