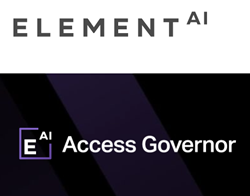 "Element AI Access Governor introduces AI into the equation of providing access to employees, while taking the time to manage risks by simultaneously empowering collaboration between a business's IT team and its various units."—Anand Medepalli, Head of Products at Element AI.
MONTREAL (PRWEB) January 20, 2020
Element AI, a global developer of AI-powered services and software that helps enterprises operationalize AI, today announced the general availability of its Access Governor product, the latest addition to the company's growing portfolio of AI software solutions. Drawing on the end-user's historical data, Access Governor analyzes, recommends, and manages the most appropriate information and location access rights for large groups of employees, so they can efficiently complete their jobs. The product allows the IT team to quickly authorize or revoke employee access and accounts, creating a safer, more orderly organization. Access Governor is available now through the Element AI sales group.
For years, businesses have struggled with regulating digital access control to data and facilities—especially businesses with high numbers of employees and external contractors. Element AI has taken its applied research capabilities to create a software that will analyze and manage role-based access control for multiple 'digital keychains' with predictive pre-assembly and activation/revocation intelligence that can quickly facilitate access to the critical information and assets of any company.
"For many companies, managing access to both information, IT platforms, and physical spaces is essential to running a safe, efficient, and profitable business," says Anand Medepalli, Head of Products at Element AI. "We developed Access Governor understanding that granting access is a balancing act between quickly providing access to ensure productivity while also taking the time to manage risks. With the introduction of AI into the equation, the process is sped up so that this balance is easier to reach, while simultaneously empowering the collaboration required between IT and various business units."
While role-based access control systems have existed for a long time, rules and protocols had to be configured. This is a slow and inefficient process, with no intuition on the part of the access control layer. Many businesses end up having to manually configure and reconfigure rules each time there is a reorganization of employees or changes in the applications used. Access Governor brings in an additional layer of intelligence built on top of this process that looks at past patterns and current trends to empower any IT team to quickly adapt to employee additions, departures and changing contractor access rights.
For more information about Element AI Access Governor product, or to request a sales demo, contact: elementai.com/contact.
###
About Element AI
Element AI is a global developer of AI software that helps people work smarter. Founded in 2016 by serial entrepreneurs including JF Gagné and A.M.Turing Award recipient, Yoshua Bengio, PhD, Element AI turns cutting-edge research and industry expertise into software solutions that exponentially learn and improve. Its end-to-end offering, including advisory services, AI enablement tools and products, aims at helping large organizations operationalize AI and create real business impact. Element AI maintains a strong connection to academia through research collaborations and takes a leadership position in policy-making around the impact of technology on society. https://www.elementai.com.
Press Contacts for Element AI:
Kevin G Clark, Senior PR Manager, Element AI
kevin.clark@elementai.com
+1 (514) 754-0343
© Element AI Inc., 2020, all rights reserved. Element AItm and the Element AI logo are protected by trademarks of Element AI Inc. Element AI Access Governor is a trademark of Element AI, and may be registered or pending registration in several jurisdictions. Other trademarks used in this document may be trademarks of the manufacturers or vendors of their respective products.