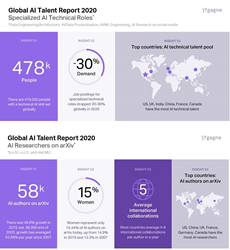 "Our third annual Global AI Talent Report shows how the AI industry is evolving with over 477,000 AI professionals--working to standardize tools and processes that help productize AI for a more digitized economy." Jean-François Gagné, Founder and CEO of Element AI.
MONTREAL (PRWEB) October 29, 2020
Jean-François (JF) Gagné, CEO and Founder of Element AI, a global developer of artificial intelligence-powered (AI) solutions and software, today announced the release of the third annual Global AI Talent Report. The 2020 report examines the most current global patterns for the worldwide AI talent pool.
This year, research methods have been expanded to take a broader look at the primary technical roles attracting more people to the AI industry and had many findings. The supply of technical AI talent has grown significantly all over the world to try and meet demand during the last several years. While the COVID-19 pandemic has put a dent in demand in most major markets, it may have a surprising result in more talent going to emerging AI hotspots. The report shows that already there is notable development of more AI-related talent in countries like Brazil and India, as AI tooling becomes democratized and the training needed is more accessible via online courses.
The 2020 Global AI Talent Report also finds:

Top AI talent remains global and highly mobile
The gender imbalance between males and females in AI research has not changed
Few of those employed in the AI industry are conducting fundamental research
"Our third annual Global AI Talent Report was expanded to cover the important roles that are critical to productizing AI, taking it from proof-of-concept in the lab, to working at scale in real time," said Jean-François (JF) Gagné, CEO and Founder of Element AI. "While the global AI industry saw a temporary decrease in demand for jobs due to the global COVID-19 pandemic, the industry will turn to meet the needs of a more digitized economy. As the industry grows and matures, we will see tools and processes standardized for productizing AI, which will help roles specialize. We should also expect to see a boom of less technical, yet AI-literate jobs emerge," added Gagné.
The complete 2020 Global AI Talent Report with detailed citations, methodologies, and graphical diagrams is available now on the JF Gagné website here.
Methodology
This year's AI Talent Report adds estimates of various other critical specialized technical roles in the value chain related to developing an AI product: ML engineering, technical implementation, and data architecture. JF Gagné and his team measured the size of the available talent pool for industry through self-reported data on social media and demand via the monthly total job postings for the same roles. The team expanded its view of those contributing to AI research by moving from analyzing conferences as a proxy—whose limited seats don't fully capture the growth of the ecosystem—to postings in arXiv. ArXiv is an open-access repository where researchers pre-publish their papers and is a credible resource for measuring the census of AI research, with a broader view of AI growth by observing included papers on applied methods.
About Element AI
Element AI is a global developer of AI software that helps enterprises operationalize AI to work smarter, together. Founded in 2016 by serial entrepreneurs including JF Gagné and A.M.Turing Award recipient, Yoshua Bengio, PhD, Element AI turns cutting-edge research and industry expertise into software solutions that exponentially learn and improve. Its end-to-end offering, including advisory services, AI enablement tools and products. Element AI maintains a strong connection to academia through research collaborations and takes a leadership position in policy-making around the impact of technology on society. https://www.elementai.com.
Press Contact for Element AI
Brodie Thompson
brodie.thompson@fhhighroad.com
Cell: +1 (647) 384-9925
© 2020, Element AI Inc. All rights reserved. "Element AI", "EAI" and the EAI logo are trademarks of Element AI, and may be registered or pending registration.