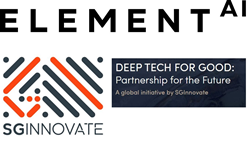 "As part of the SGInnovate network, we will share our experience, solutions, and capabilities to help both public and private sectors achieve their sustainability goals."—Sherif Elsayed-Ali, Director of AI for Climate at Element AI
SINGAPORE (PRWEB) July 03, 2020
Element AI, a global developer of artificial intelligence-powered (AI) solutions and services, today announced it is joining the SGInnovate Deep Tech Summit as an ecosystem partner. In line with the launch of its 'AI for Climate program', the company's participation in the Deep Tech for Good initiative will help accelerate the use of frontier technologies including machine learning (ML) and AI to improve the human condition and fast-track sustainable developments across multiple markets.
The first session featured at Deep Tech for Good was the AI for Climate Masterclass: How AI Can Help Manufacturers to Achieve Sustainability Goals. This workshop was designed to help leaders and practitioners in manufacturing-related industries learn about the challenges and opportunities for deploying AI to drive organisational sustainability goals whilst managing ROI.
As part of this continuing series, Professor Yoshua Bengio, Scientific Director of Mila and Co-Founder of Element AI, and Dr Kai-Fu Lee, Chairman and CEO of Sinovation Ventures and President of Sinovation Ventures Artificial Intelligence Institute, will share their perspectives on the topic, "Using AI to fight COVID-19 and Climate Change". The virtual session will be on 23rd July, 9am (SGT).
Register here.
Through its collaboration with the Deep Tech for Good initiative, Element AI is sharing insights from its experiences at the forefront of AI technology deployments and its work alongside sustainability experts from industries such as energy, manufacturing and supply chains to improve the efficiency of processes and the impact of sustainability programmes. The core intention of this initiative is to educate decision-makers about how technology can be leveraged for good, applying sustainable, climate-friendly methodologies that also create positive return on investment for businesses.
"SGInnovate's Deep Tech for Good program is world class—having significant reach through industry-leading participants and partners whom we are proud to be associated with," said Sherif Elsayed-Ali, Director of AI for Climate at Element AI. "We are excited to be a part of this network with SGInnovate, and look forward to bringing our experience, solutions, and capabilities to make a difference by educating both the public and private sectors about AI, and help companies hit their sustainability goals."
For more information about Element AI solutions and services, contact: elementai.com/contact.
About Element AI
Element AI develops AI-powered solutions and services that help people and machines work smarter, together. Founded in 2016 by serial entrepreneurs including JF Gagné and A.M.Turing Award recipient, Yoshua Bengio, PhD, Element AI turns cutting-edge fundamental research into software solutions that exponentially learn and improve. Its end-to-end offering includes advisory services, AI enablement tools and products that help large organizations operationalize AI for real business impact. Element AI maintains a strong connection to academia through research collaborations and takes a leadership position in policymaking around the impact of AI technology on society. https://www.elementai.com.