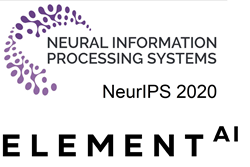 "Element AI takes great pride in having 10 papers selected for NeurIPS 2020 in collaboration with prestigious institutions like MIT, Stanford, and MILA. This is a testament to our team's quality of research." Valérie Bécaert, Director of Research, Scientific Groups, and AI for Climate at Element AI
MONTREAL (PRWEB) October 26, 2020
Element AI, a global developer of artificial intelligence-powered (AI) solutions and software, today announced that 10 of 17 submitted academic papers were accepted for the 2020 Neural Information Processing Systems (NeurIPS) Conference. At the largest annual AI and machine learning conference (held virtually) from December 6 to 12—Element AI joins AI research scientists from across the globe to share the latest scientific research, theories, and breakthroughs in machine learning.
These impacting papers set the course each year for how the underlying technology of AI and ML-driven initiatives affect the products and solutions designed to automate and augment decision-making.
Dedicated to expanding fundamental research through an open and collaborative approach, Element AI employs a diverse team of PhDs and data scientists working with a broad international network of academic fellows and research institutions. The investment in these global research efforts has resulted in 10 papers authored by collective members of the Element AI research team and associated contributing partners for NeurIPS 2020.
A selection of accepted Element AI papers to be showcased at NeurIPS this year include:
1. Differentiable Causal Discovery from Interventional Data—Alexandre Drouin (contact author)
The proposal of a theoretically-grounded method based on neural networks for the discovery of causal relationships from a combination of observational and experimental data
2. In Search of Robust Measures of Generalization—Gintare Karolina Dziugaite (contact author)
An argument that generalization theories should be evaluated for their robustness and arrive at different conclusions
3. Synbols: Probing Learning Algorithms with Synthetic Datasets—Alexandre Lacoste (contact author)
Synbols (synthetic symbols) is a tool that rapidly generates new datasets for testing learning algorithms in various learning setups
4. Online Fast Adaptation and Knowledge Accumulation: a New Approach to Continual Learning—Massimo Caccia and Pau Rodriguez (contact author)
Continual learning using an extension of the MAML algorithm to learn from streams of tasks without forgetting previous tasks while adapting to new ones
5. Unsupervised Learning of Dense Visual Representations—Pedro O. Pinheiro (contact author)
A proposal for the use of View-Agnostic Dense Representation (VADeR) for unsupervised learning of dense representations
A complete list of all papers accepted for NeurIPS 2020 by the research team and their collaborators at Element AI is available here: elementai.com/research.
"Since 2016, our world-recognized research team has been heavily focused on the production of leading AI and neural network science breakthroughs," said Valérie Bécaert, Director of Research, Scientific Groups, and AI for Climate at Element AI. "We take great pride in the achievement of having 10 academic papers selected for NeurIPS 2020 and in our collaboration with prestigious institutions such as MIT, Stanford, and MILA. This is a testament not only to the quality of research at Element AI, but our commitment to bridging the gap between theory and making an impact by solving real-world challenges," added Bécaert.
To join the Element AI team, visit currently open career opportunities at: elementai.com/careers.
About Element AI
Element AI is a global developer of AI software that helps enterprises operationalize AI to work smarter, together. Founded in 2016 by serial entrepreneurs including JF Gagné and A.M.Turing Award recipient, Yoshua Bengio, PhD, Element AI turns cutting-edge research and industry expertise into software solutions that exponentially learn and improve. Its end-to-end offering, including advisory services, AI enablement tools and products. Element AI maintains a strong connection to academia through research collaborations and takes a leadership position in policy-making around the impact of technology on society. https://www.elementai.com .
© Element AI, Inc. 2020, all rights reserved. Element AI®, and the Element AI logo are protected by trademarks of Element AI Inc., and may be registered or pending registration in several jurisdictions. Other trademarks used in this document may be trademarks of the manufacturers or vendors of their respective products.
Press Contacts for Element AI
Kevin G Clark, Senior PR Manager, Element AI
Kevin.clark@elementai.com
+1 (514) 754-0343