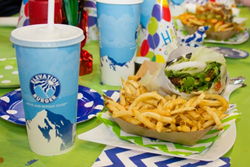 Beef from grass-fed cattle contains fewer calories, has higher levels of healthy Omega 3s and tastes much better than conventionally raised beef.
Houston, TX (PRWEB) May 04, 2017
On any given Saturday night in Houston, you'll find long lines at fast food locations after the local clubs and bars close down. Hungry patrons in their cars wrap around the buildings looking for something to satiate their hunger. Few options exist for those looking for an indulgence that's both delicious and healthy. That's where the Elevation Burger at 59 and Kirby comes in.
"We offer organic, grass fed beef and organic chicken, we even grind our own beef in store to preserve freshness," says Mike Mustafa. "We have something different than other chain establishments that use processed food," he says. Mustafa was inspired to offer late hours when he noticed that a nearby fast food location was always busy late into the evening. "It just seemed natural to me that people who eat healthy all day long don't want to throw that away just because they're hungry late at night. So we decided to change our hours on the weekends to accommodate those folks."
KIRBY'S Elevation Burger drive thru is open until 4:00 am on Thursday, Friday and Saturday to provide the organic beef and chicken option his customers look for, and until midnight the rest of the week. "Our philosophy is 'Ingredients Matter,' and we mean it. We are the largest chain in the country that offers organic, grass fed beef and organic chicken, and we also have veggie and vegan burgers available," says Mustafa. Elevation Burger's Fresh Fries are cut on site and are cooked in olive oil, a healthier alternative to frying in vegetable oil.
In addition to the beef and chicken being organic, both are also Halal, thus making Elevation Burger even more inclusive of others. Elevation Burger won Men's Health "Chain Burger Smack Down" in February 2017, and Business Insider named it one of the 7 chains that will dominate the restaurant industry this year. As more and more Americans push for transparency in their food, this healthy option is quickly moving to the forefront of burger-dom.
In addition to providing a delicious, healthy alternative to fast food burger chains, Elevation Burger also takes its environmental impact seriously. All locations are built and equipped using environmentally sustainable and non-hazardous construction materials. They recycle their waste including the olive oil used in the Fresh Fries. Not only is the beef all organic, it's also free range and 100% grass fed, resulting in fewer calories, and higher levels of healthy Omega 3s.
"Why should people with late night cravings be limited to unhealthy fast food options," asks Mustafa. "At Elevation Burger, customers can eat healthier, even at 2:00 am on a Friday night."
###
Elevation Burger opened their first location in 2005 and has grown to 59 locations globally. All Elevation Burger locations serve organic, 100% grass-fed, hormone and antibiotic free beef and organic chicken. Mustafa, moved to Houston in 2002 and opened Elevation Burger location at 3819 Kirby Drive in 2012. He and his family are proud to call Houston home.