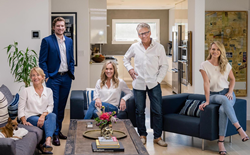 At Eleven Real Estate, 100% of our focus is on our clients
FAIRFAX, Calif. (PRWEB) November 12, 2021
Eleven Real Estate today announced its partnership with Side, the only real estate technology company that exclusively partners with high-performing agents, teams, and independent brokerages to transform them into market-leading boutique brands and businesses. The alliance will ensure that Eleven Real Estate, a firm that provides boutique real estate services throughout Marin County, is powered by the most advanced platform in the industry.
Leading Eleven Real Estate is Danielle Salk, a member of the Marin County Top Agent Network. Salk is passionate about Marin: She's lived in almost every town in the county and knows what makes each area exceptional. A respected industry leader, Salk's clients enjoy the benefit of her well-developed local network. She hears about the latest listings first, which gives her buyers an edge in the competitive market. Sellers profit from Salk's deep knowledge of local market valuation and marketing savvy.
Joining Salk as founding members at Eleven Real Estate are Kerry Berry, Iryna Foehr, and Jurg Spoerry. Berry has an economics degree and worked in investment banking on Wall Street before becoming an agent in 2003. Foehr specializes in multi-unit and investment properties and is fluent in Russian and Ukrainian. Spoerry, the person behind iconic San Francisco nightclubs Kennel Club and Nightbreak, has a master's degree in economics and nearly two decades of industry experience.
Eleven Real Estate serves buyers and sellers in Marin County, including Fairfax, San Anselmo, Kentfield, San Geronimo Valley, and Mill Valley. The team leverages its 50 years of combined experience to provide bespoke boutique service to clients eager to experience the Marin County lifestyle. Each Eleven Real Estate agent brings heart and integrity to every transaction, and they put the client's goals first.
Partnering with Side will ensure Eleven Real Estate remains on the cutting edge of the evolving real estate market while continuing to deliver premium services to its clients. Side works behind the scenes, supporting Eleven Real Estate with a one-of-a-kind brokerage platform that includes proprietary technology, transaction management, branding and marketing services, public relations, legal support, lead generation, vendor management, infrastructure solutions, and more. Additionally, Eleven Real Estate will join an exclusive group of Side partners, tapping into an expansive network from coast to coast.
"At Eleven Real Estate, 100% of our focus is on our clients," said Salk. "We partnered with Side because we want our agents and clients to know that a solid technological foundation supports everything we do on their behalf. We can assist our clients with confidence, while Side provides state-of-the-art marketing, technology, administrative, and legal services."
About Eleven Real Estate
Eleven Real Estate is committed to creating space for buyers and sellers in Marin County. With a combined 50 years of experience, its agents specialize in helping people experience the Marin lifestyle, and they know what makes each community unique. They have the local knowledge to match buyers with their ideal homes and the proven strategies to help sellers achieve the highest sales. Eleven Real Estate is headquartered in Fairfax, California. For more information, visit http://www.elevencalifornia.com.
About Side
Side transforms high-performing agents, teams, and independent brokerages into successful businesses and boutique brands that are 100% agent-owned. Side exclusively partners with the best agents, empowering them with proprietary technology and a premier support team so they can be more productive, grow their business, and focus on serving their clients. Side is headquartered in San Francisco. For more information, visit http://www.sideinc.com.