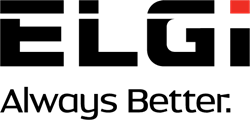 CHARLOTTE, N.C. (PRWEB) November 23, 2020
ELGi North America, a subsidiary of ELGi Equipments Limited, a global supplier of compressed air solutions, today announced it recently held a grand opening and ribbon cutting ceremony for the company's new, expanded North American headquarters, located in Charlotte, NC.
The ribbon cutting event, held last Friday, November 20th was attended by ELGi employees and included speeches by David Puck, President, ELGi North America and, Dr. Jairam Varadaraj, Managing Director, ELGi Equipments Ltd. Puck and Dr. Varadaraj cut the ribbon to officially mark the company's relocation from Continental Blvd. to a larger space on Entrance Drive.
"2020 has been a year of change for so many companies. For ELGi, our forward momentum has never wavered and that meant spending time relocating to a facility which would allow us to further expand our air compressor business and create additional jobs in the community," said David Puck, President, ELGi North America.
"ELGi has worked diligently to be at this juncture, requiring more facility and manufacturing space, even in the light of business effects the pandemic has brought to the country. We are excited to be here, on the cusp of ELGi's global 60th anniversary moving into a large, expanded space where we can further facilitate the manufacture and delivery of compressed air," said Dr. Jairam Varadaraj, Managing Director, ELGi Equipments Ltd.
ELGi is a complete compressed air solutions provider with 400+ air compressor products and manufactures a complete range of air compressors that include oil lubricated and oil-free electric powered rotary screw compressors, diesel powered portable screw compressors, oil lubricated, and oil-free reciprocating compressors, dryers, air receiver tanks and other air accessories.
About ELGi North America
ELGi North America, headquartered in Charlotte, NC, is a subsidiary of ELGi Equipments Limited, a leader in compressed air solutions, for over 60 years. Established in 2012, ELGi North America, in conjunction with its subsidiaries, Pattons, Pattons Medical, and Michigan Air Solutions, offers a comprehensive range of compressed air products and services. Our product offering includes oil-lubricated and oil-free rotary screw and reciprocating compressors, dryers, filters, and ancillary accessories. ELGi's expanded offerings include the distribution for the Rotair range of portable air compressors throughout North America, technical support provisions, system analysis, energy audits, parts, and services. ELGi and its subsidiaries serve multiple industry verticals spanning medical applications, pharmaceuticals, food & beverage, construction, manufacturing and infrastructure. For further information please visit https://www.elgi.com/us/