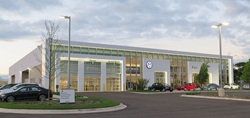 Elgin Volkswagen even allows customers to schedule their service visits online.
ELGIN, Ill. (PRWEB) August 29, 2019
To the northwest of Chicago, Elgin Volkswagen has been broadening its service department to make things easier and more convenient for service customers through a wide array of complimentary amenities and benefits.
Elgin Volkswagen wants customer cars to look as good as they run. After every scheduled service visit, the dealership provides a complimentary car wash that will make the freshly-serviced vehicle sparkle and shine almost like new.
With every service visit, the Elgin Volkswagen team takes some extra time to give the vehicle a complimentary inspection. This inspection can catch components that are wearing out before they become a major service issue and it can alert service customers to upcoming service costs that they should be prepared for ahead of time.
The Chicago-area Volkswagen dealer has constructed an elegant showroom that is also home to a comfortable lounge. Complete with complimentary Wi-Fi, high-definition TVs and refreshments, this lounge can make waiting for service an enjoyable relaxing experience.
For longer service visits, the Chicago-area dealership can even provide complimentary service loaners. These service loaners are often brand-new vehicles that allow service customers to ride around in style and continue with their day without interruption while experiencing the latest that Volkswagen has to offer.
Elgin Volkswagen even allows customers to schedule their service visits online. Through the simple interactive form, customers can sign in, select service and pick a date and time. The form even remembers returning customers to make the process even simpler.
Car owners looking for a better service experience are encouraged to see the dealership for further details. More information can be found on the dealership's website at http://www.elginvw.com where service can also be scheduled. Questions or concerns can be directed to the dealership's service team either online or by calling 877-797-6424. The Elgin Volkswagen service center can also be visited at 2630 Auto Mall Drive in Elgin.