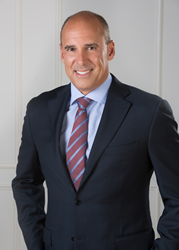 Elite's Remote Guarding quality is the best in the security industry...
LOS ANGELES (PRWEB) September 21, 2018
Elite Interactive Solutions, the leader in Remote Guarding security solutions, welcomes John Bankes as the company's new Chief Business Development Officer. Bankes has a stellar reputation in strategy, sales and marketing with a track record of major success stories. He brings a diverse background in technology, internet security and global consulting. He's known for his ability to assemble and motivate highly-skilled sales teams, while delivering double-digit business growth year after year. His sales of complex value propositions sparked crucial growth in a wide range of industries and sectors.
"Joining Elite has provided me with an incredible opportunity to leverage my background in technology and security," Bankes says. "With Elite, the migration to Remote Guarding is very intriguing because there are so many industries that can benefit from our robust offering. We can create incredible experiences for our clients and their customers, knowing that we can provide great value and significantly improve their security posture."
Bankes says Elite's leadership position in Remote Guarding is driving the current security landscape. "Working with Chief Executive Officer Aria Kozak and COO Louis Hook in just this short amount of time has led to many new creative ideas with an unbelievable demand for our Remote Guarding offering."
He sees Elite as a company with remarkable capacity for growth. "Elite's Remote Guarding quality is the best in the security industry and their depth of knowledge is something that doesn't exist anywhere else," Bankes says. "This is a company that can go into any industry and tell them, 'We can provide you with a complete Remote Guarding security solution, that can act as a force multiplier or replacement for your traditional human guards with technology.' All of this is backed by our highly skilled team of remote guards located in our high availability security operations command center (SOCC)." It is very exciting to provide such comprehensive Remote Guarding solutions, which embody the unique combination of live remote guards, cloud computing, and the Internet of Things (IoT), emerging within the Security and Monitoring Industries.
"We're very happy to have John Bankes on board," said Aria Kozak, President and CEO of Elite Interactive Solutions. "His deep technical knowledge and years of experience as a sales executive will prove invaluable to our organization. As Remote Guarding continues to grow within the security landscape, John's abilities will be crucial in helping us expand and develop new business opportunities. Elite is the leading provider of Remote Guarding security solutions that are revolutionizing security for organizations around the country. John can help us make the most of our incredible growth and the opportunities it represents."
About Elite Interactive Solutions
Elite Interactive Solutions is a leading provider of Remote Guarding services to the automotive, retail, multi-family residential, industrial, warehousing, and distribution markets. With its unique brand of Remote Guarding services, Elite is revolutionizing the Security Guarding and Monitoring industries. In October 2016, the company became the first entity in the world to receive the Underwriters Laboratories certification for Remote Guarding services using managed video in command and control. FBI-LEEDA, one of the premier Law Enforcement Associations in the United States, recognized Elite's industry leading role in Remote Guarding by selecting it as the only company to educate its police chief and police executive membership on the benefits and use of interactive monitoring and guarding services.
To learn more about Elite Interactive Solutions, please visit: https://www.eliteinteractivesolutions.com