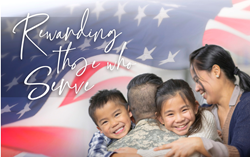 We've strongly supported military families since our founding, and have a number of Veterans among our agents and property managers--our hope is that this program will help those who serve our country
HONOLULU (PRWEB) May 15, 2020
A new Military Appreciation Program unveiled today by Elite Pacific Properties will offer the highest cash rebate of its kind on home sales and purchases in Hawaii to active-duty U.S. servicemen and women, as well as veterans, reservists, and their spouses.
"We've strongly supported military families since our founding, and have a number of Veterans among our agents and property managers," says Chuck Garrett, Vice President of Brokerage Operations and Business Development. "Right now, with many Hawaii residents struggling with the loss of income and economic uncertainty, our hope is that this program will help those who serve our country".
Planned since 2019, Elite Pacific timed the launch to honor local military families during Military Appreciation Month this year. "With the Department of Defense (DoD) recently extending a hold on moves through June 30 due to the COVID 19 crisis, and the annual May – August permanent change of station (PCS) season likely extending into the fall, this benefit package will provide welcome financial support for military families during a challenging relocation season," Garrett added. This is the first-ever such program offered by the company.
The Elite Pacific Military Appreciation Program offers:
Home Purchase/Sale Cash Benefit

A direct cash benefit is credited to the service member at closing based on the home sale price. For example: the benefit for a $500,000 sale is $3,025, and for a $1,000,000 sale the benefit is $6,250.
Long Term Property Management Discount

First month of management fee waived.
Vacation Rental Management Discount

10% discount on management fees for 12 months or a total of $5,000 whichever comes first.
Vacation Rental Guest Discount

5% of total stay, may not apply to some inventory.
Outbound Referral/Relocation Assistance

Placement with a similar benefit program when/where possible.
Hawaii's military community includes 112,625 veterans or approximately 8% of Hawaii's population of 1,415,872.
For active-duty personnel, the summer months are the busiest move season of the year, as hundreds of thousands of Defense Department and U.S. Coast Guard servicemen and women receive orders to new assignments across the nation and worldwide. The period of May 15 through August 31 is the annual peak move season, with more than 65 percent of moves occurring during this time frame.
To be eligible for the cash benefit, a service member must be registered in the program. To register, visit
http://www.elitepacific.com/map (website live on 5/15) or contact David Erickson, CRP, MRP at militaryappreciation@elitepacific.com / 808-913-1561.
Credit for Image: Courtesy of Elite Pacific Properties
Link to Military Appreciation site: http://www.elitepacific.com/map
Elite Pacific Properties: https://www.elitepacific.com/about/
PRESS CONTACT:
Liz Foley, CEO, The Privus Group – Public Relations
425 949 6300, liz@theprivusgroup.com
Chuck Garrett, VP, Brokerage Operations and Business Development, Elite Pacific Properties, tel. (808) 762-1473, chuck.garrett@elitepacific.com
PROGRAM REGISTRATION:
David Erickson, CRP, MRP
Business Development Manager, Elite Pacific Properties
militaryappreciation@elitepacific.com
808-913-1561.