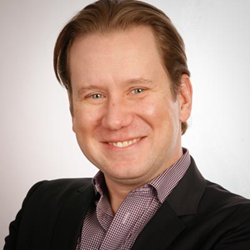 Elite has absolutely earned their reputation for consistently over delivering for clients. I'm thrilled to join the team as we prepare to rewrite the playbook for performance from brand to demand.
NEW YORK (PRWEB) May 14, 2019
Award-winning performance marketing agency, Elite SEM, today announced that Craig Atkinson has joined the agency as its first Chief Client Officer. In the newly-created position, Atkinson will play a critical role in leading Elite's management team to redefine the client experience across the agency's comprehensive solutions suite.
The strategic hire follows a series of C-suite additions at the agency, beginning with the hiring of industry veteran Dalton Dorné as the agency's first Chief Marketing Officer and the promotion of Elite president Zach Morrison to Chief Executive Officer. The expansion of Elite's executive team signals a commitment to proven leadership as the agency completes the integration of key acquisitions, including social-marketing agency OrionCKB, CRM, email marketing and creative agency Email Aptitude, and Amazon-focused ecommerce agency CPC Strategy.
"Elite has grown tremendously over the past year, and this growth requires us to implement processes to ensure that we continue to deliver exceptional client service as our footprint expands to cover new territory," said Zach Morrison, CEO of Elite. "Looking ahead, we want to take our proven success and build on it with the experience and innovative leadership of other visionaries in our industry. By welcoming Craig to the team, we're gaining an executive who understands the unique needs of our diverse client base, and can work as a strategic partner to help Elite's clients achieve measurable year-over-year growth."
"Elite has absolutely earned their reputation for consistently over delivering for clients," said Atkinson. "I'm thrilled to join the team as we prepare to rewrite the playbook for performance from brand to demand."
An early pioneer in digital marketing, Craig has spent more than 20 years helping clients and agencies thrive in times of exponential change. Before joining Elite, Atkinson was Chief Investment Officer at PHD, where he evolved the 400-person buying group into a squad of integrated, client and results focused investment professionals. Prior to that, he was Chief Digital Officer at PHD, where he established the first full-service digital capability at the agency. Over the course of his career, Atkinson has held key Account, Media and Strategy roles at OMD, Modem Media, Digitas, and Arc Worldwide. A frequent speaker and recognized thought leader around change management and the digital marketing landscape, Atkinson is regularly quoted in such publications as The New York Times, The Wall Street Journal, Advertising Age and AdWeek.
The role is effective immediately, and Atkinson will report to Elite SEM CEO, Zach Morrison.
About Elite SEM
Elite SEM is an award-winning digital marketing agency founded on Search and focused on holistic performance-driven digital marketing. Elite's expertise spans Paid Search, SEO, Shopping & Feed, Paid Social, Display Advertising, Amazon & Marketplaces, Affiliate Marketing, Conversion Rate Optimization (CRO), CRM, Email Marketing, and Creative Services – collectively supported by Integrated Media Strategy and Analytics/Marketing Science teams. From discovery through acquisition, retention, reactivation and loyalty, Elite's services span all stages of an integrated marketing strategy and through the entire customer journey allowing leading industry brands to effectively and strategically evaluate digital marketing spend and increase cross-channel performance. Clients include: Birchbox, AdoreMe, Theory, Timex, Einstein Bagels, Tommy Bahama, Melissa & Doug, Zipcar, and Terminix.
Elite SEM has won several prestigious industry awards and accolades for both culture and performance, including recognition as #1 on Ad Age's Best Places to Work survey. Elite's commitment to people and performance has cemented their position as one of the top digital marketing agencies in North America. For more information, visit http://www.elitesem.com. You can also find our latest news and updates on Twitter @EliteSEM and like us on Facebook @EliteSEM.