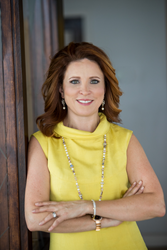 EL PASO, Texas (PRWEB) November 09, 2018
Elizabeth Dipp Metzger has been named a member of the 2018 Chairman's Cabinet of New York Life. Members of the elite Chairman's Cabinet are the top fifty highest producing agents among New York Life's sales force of more than 12,000 licensed agents in sales achievement.
Mrs. Dipp Metzger has been a New York Life agent since 2010, and is associated with New York Life's El Paso General Office in El Paso, TX.
Elizabeth Dipp Metzger is the president and owner of Crown Wealth Strategies, a comprehensive wealth strategies firm in El Paso, TX. As a Financial Professional, Dipp Metzger provides clients with an integrated retirement and insurance strategy focused on maximizing value over the course of their lifetime. Lizzie's focus is physicians, professionals, and business owners in the affluent market. Lizzie provides holistic strategies for retirement, college funding, business planning, and wealth accumulation.She is a nationally noted financial professional winning the Four under Forty Advisor Today award and is on the current Top Financial Advisor's list in Latino Leaders. She has also been featured in various publications including CNBC, the Wealth Channel Magazine, National Underwriter, Diversity Today, and Latina Style.
New York Life Insurance Company, a Fortune 100 company founded in 1845, is the largest mutual life insurance company in the United States* and one of the largest life insurers in the world. New York Life has the highest possible financial strength ratings currently awarded to any life insurer from all four of the major credit rating agencies: A.M. Best (A++), Fitch (AAA), Moody's Investors Service (Aaa), Standard & Poor's (AA+).** Headquartered in New York City, New York Life's family of companies offers life insurance, retirement income, investments and long-term care insurance. New York Life Investments*** provides institutional asset management. Other New York Life affiliates provide an array of securities products and services, as well as retail mutual funds. Please visit New York Life's website at http://www.newyorklife.com for more information.
*Based on revenue as reported by "Fortune 500 ranked within Industries, Insurance: Life, Health (Mutual)," Fortune magazine, 6/15/15. For methodology, please see http://fortune.com/fortune500/.
**Individual independent rating agency commentary as of 8/11/15.
***New York Life Investments is a service mark used by New York Life Investment Management Holdings LLC and its subsidiary, New York Life Investment Management LLC.
Lizzie Dipp Metzger is a Financial Adviser offering investment advisory services through Eagle Strategies LLC, a Registered Investment Adviser. Crown Wealth Strategies is not owned or operated by New York Life Insurance Company or its affiliates.
SMRU 1787050